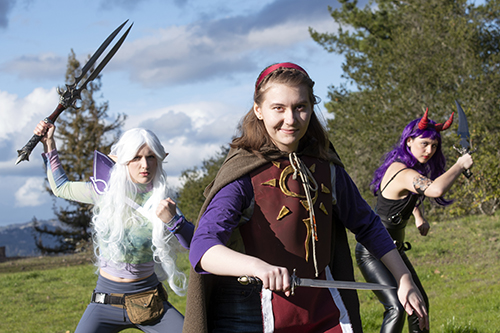 February 4, 2020 - Santa Rosa, CA – The Santa Rosa Junior College (SRJC) Theatre Arts department will open their spring season with the comedy, "She Kills Monsters: Virtual Realms," by Qui Nguyen. This play, about the fantasy role-playing game Dungeons and Dragons, will be directed by Department Chair and Artistic Director Leslie McCauley.
 
"I'm not a D&D player myself," said McCauley. "But I was immediately drawn to the show's self-referential comedy, eccentric characters, and message of embracing your inner nerd. Add in the strong female focus and support of LGBTQ+ diversity and inclusion, and the script was a slam-dunk for our students."
 
Having lost her younger sister in a tragic accident, Agnes Evans begins the painful task of packing Tilly's room. She realizes how little she knew her sister when she discovers a scenario Tilly wrote for Dungeons and Dragons. With the help of a dungeon master, Agnes embarks on a quest to learn more about her sister and soon finds herself in a world where fantasy and reality collide. Inhabited by nasty ogres, homicidal fairies, and slacker monsters, this comedy is an adventure and an exploration of loss and acceptance.
 
The online show will be the department's fourth performed live with cast and crew members working individually from their homes. The production features scenic designs and Indonesian-inspired shadow puppets by student Kris Hakim, currently designing from her home in Singapore. Costumes, masks, hair and makeup are by Ariel Allen. Sound design is by Justin Smith. Dance choreography is by Gabrial Rizo, and fight choreography is by Carla Pantoja.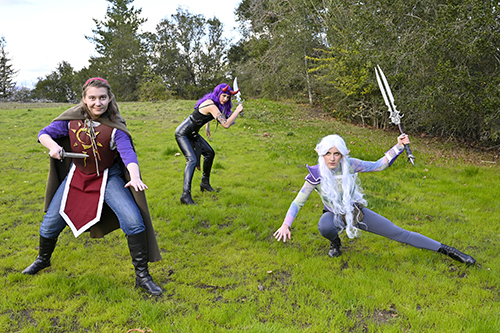 "I have always been a geek/nerd at heart," said Alex Delzell who plays Orcus/Ronnie. "When I was young, I felt, to be liked or popular, I had to hide my geeky. I would've loved to have seen a show that so openly embraces the power behind being a nerd. I hope that by doing this show, I can serve as an inspiration for others to embrace their true selves."
 
"I have a deep personal connection with the show's subject matter," said Estefani Chavez who was born in Guatemala and later attended high school in Marin. "I have gone through a similar journey of acceptance and coming to terms with my sexuality." Estefani plays Evil Gabbi, a dual role of a high school cheerleader in the real world and an evil succubus in the D&D world.
 
Showtimes are:
March 5, 6, 12, 13 at 7:30 p.m., and March 14 at 2 p.m.
 
Tickets for online performances will be sold as donations at https://theatrearts.santarosa.edu.
Patrons will receive an email with the Online Performance Access Code and Instructions on the day of the show. Due to Covid-19 restrictions, the SRJC campus is closed through spring 2021. The Box Office Manager is available at (707) 527-4307 during Box Office Hours: Wednesday through Friday, 12:00 p.m. to 4:00 p.m., and by email one hour before curtain to field log-on questions.
"She Kills Monsters" is presented by arrangement with Concord Theatricals on behalf of Samuel French, Inc. www.concordtheatricals.com.
 
Lizzy Bies as Tilly, Adrianna Rasmussen as Kaliope and Corynne Spencer as Lilith. Photo by Thomas Chown. Photos available upon request.