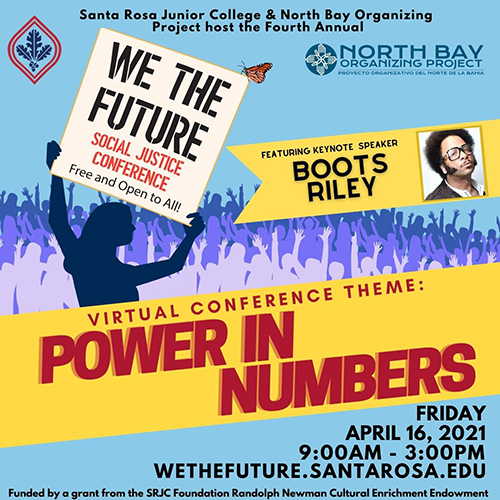 March 16, 2021, Santa Rosa, CA—Santa Rosa Junior College (SRJC) and North Bay Organizing Project (NBOP) partner again for the fourth annual We the Future Social Justice Conference, held virtually this year. The conference offers consciousness-raising workshops throughout the day presented by activists working on a wide variety of issues. The Keynote speaker, Boots Riley, director of the award-winning film, "Sorry to Bother You" and front-man of the legendary Oakland political hip-hop group The Coup, will speak at 1:00 p.m. Friday, April 16, 2021, from 9:00 a.m. to 2:30 p.m. Free and open to all.
This year's conference, "Power in Numbers," will explore the power of mass mobilization, coalition building, and democracy. It will correspondingly present the power of science, mathematics, and statistics as tools for social justice. "Power in Numbers" stresses the importance of counting and being counted.
To register or propose a workshop, go to the We the Future conference website: wethefuture.santarosa.edu.
Funded by a grant from the Santa Rosa Junior College Foundation-Randolph Newman Cultural Enrichment Endowment.