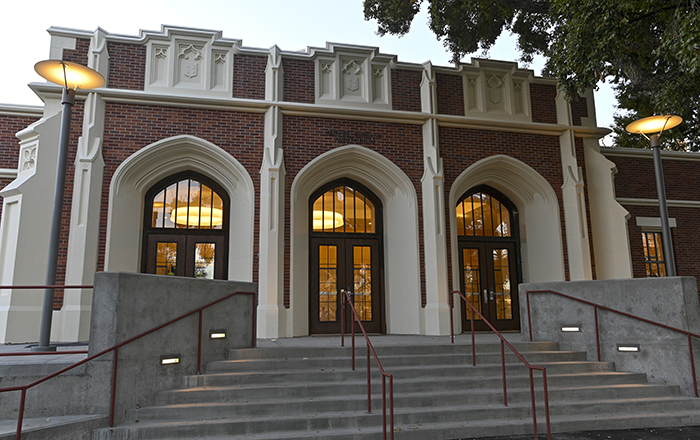 January 29, 2020, Santa Rosa, CA—Santa Rosa Junior College (SRJC) will celebrate the reopening of the newly renovated Burbank Auditorium with a grand opening weekend beginning with a ribbon-cutting on Friday, March 6, 2:00 p.m. to 3:00 p.m. The ribbon-cutting will feature a special music performance directed by faculty member Dr. Jerome Fleg and backstage tours will be available following the ceremony. This free event will be held in the Luther Burbank Auditorium lobby, 1501 Mendocino Ave, CA 95401.
SRJC President Frank Chong said that he is thrilled to welcome the community back to Burbank Auditorium. "Sonoma County supported this renovation by passing Measure H in 2014," he said. "Now, we invite everyone back to enjoy the incredible performance space that they helped create."
Opening Theatre Arts performance
The celebration weekend will continue the evening of March 6 with a reception just prior to the opening Theatre Arts performance of "The Cripple of Inishmaan." The reception begins in the Burbank lobby at 7:00 p.m. and moves into the auditorium for a demonstration of surround sound, a tour of the stage and accessible facilities. There will be Irish music in the Studio lobby before the theatre performance, which begins at 8:00 p.m. in the new Studio Theatre. Attendance to the reception is free, though tickets must be purchased for the theatre performance. Additional shows run through Sunday, March 15.
"The Cripple of Inishmaan" is set in the 1930s on Ireland's Aran Island of Inishmaan, where the main character strives to escape his boring, gossipy and impoverished life when a Hollywood film crew arrives to make a documentary. Writer Martin McDonagh is known for his dark humor and is the screenwriter/director of the Academy Award-winning "Three Billboards Outside Ebbing, Missouri."
"This is our premiere production in SRJC's first-ever Studio Theatre, and we are looking forward to having all the bells and whistles: full scenery, lights, sound, projections and live Irish Music." said Theatre Arts Department Chair and Artistic Director Leslie McCauley. "Burbank Auditorium, the new Studio Theatre, and our teaching support spaces are beautiful and state-of-the-art. Our students are over the moon!"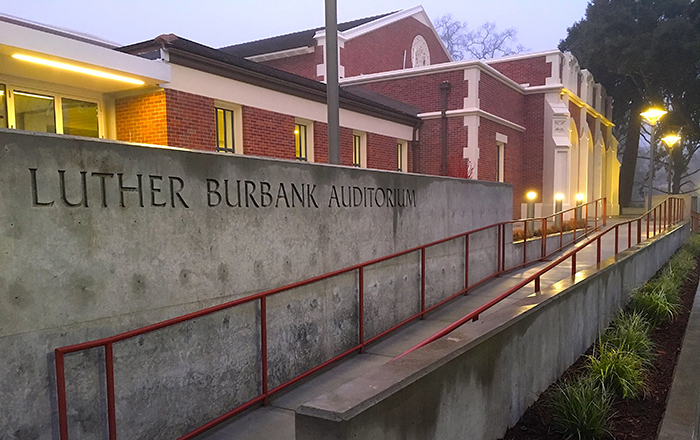 Opening Music performance
The weekend of celebration concludes with the opening music performance entitled "Renaissance: The New Burbank" in Burbank Auditorium on Saturday, March 7, at 7:00 p.m., which will feature a collaboration between the SRJC Orchestra, Symphonic Band and Concert Choir. The concert will also include an original piece written by SRJC faculty member and composer, Dr. Mark Anderman, entitled "For Us All," which celebrates the return to Burbank Auditorium and is based on the Edna St. Vincent Millay poem, "On Hearing a Symphony of Beethoven."
To purchase theatre tickets, please visit https://theatrearts.santarosa.edu.
To purchase music performance tickets, please visit https://music.santarosa.edu/events.
Parking permits are $4 and are required for all events except the ribbon cutting.