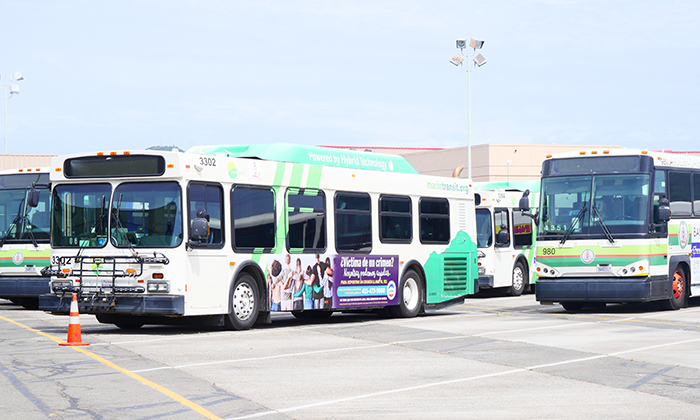 June 28, 2022, Santa Rosa, CA — Santa Rosa Junior College (SRJC) Adult Education Department is offering a free bus operator pre-apprenticeship program beginning in the fall of 2022. The Sonoma-Marin Bus Operator Pre-Apprenticeship Program (PA) is a partnership with Golden Gate Transit (GGT) and Amalgamated Transit Union (ATU) Local 1575. It will provide a pathway to family-sustaining career opportunities for residents of Sonoma and Marin Counties and directly address a GGT workforce shortage by preparing applicants for the Bus Operator Apprenticeship Program.
 
The 5-course, 1-semester program includes free, online, bilingual English-Spanish classes and two on-site shadow days at GGT. The Workforce Preparation Certificate will train students to work in a variety of workplace and industrial environments and will focus on essential soft skills, professionalism, problem-solving, customer service and communication. There will be an introduction to workplace writing course and a transition to careers practicum.
 
"We are very excited to launch this new program, the first of its kind, this coming fall 2022," said Director of Sonoma County Regional Adult Education Programs and SRJC Adult Education Program, Marlyn García. "We believe that it is a tremendous opportunity for individuals looking for a career change that will lead to a living wage and provide them with the training necessary to become the next transit professionals."
 
There is a $500 signing bonus upon acceptance to the program and another $500 signing bonus upon program completion.
 
Applicants must have a current California driver's license, a satisfactory driving record, a high school diploma or the equivalent and be authorized to work in the U.S.
 
Bilingual Program Information Sessions will be held on Zoom:
Tuesdays, June 28, July 12 & July 26, 6:00 -7:00 p.m.  or
Wednesdays, July 6 & July 20, 6:00 -7:00 p.m.
Attendees must sign-up for the information session to reserve space and receive the virtual link.
https://form.123formbuilder.com/6178474/pre-apprenticeship-info-session-sign-up
 
The Pre-Apprenticeship application deadline is August 1, 2022.
https://form.123formbuilder.com/6157405/application-for-pre-apprenticeship-program
 
To learn more visit https://adult-education.santarosa.edu/ or call 707-521-7962.