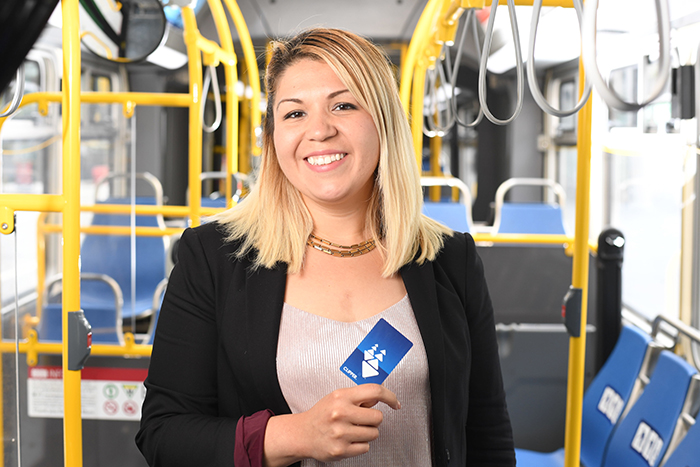 August 15, 2022, Santa Rosa Junior College (SRJC) is collaborating with Bay Area public transit agencies and the Metropolitan Transportation Commission (MTC) on a two-year pilot program aimed at studying the benefits of a transit pass that provides access to all transit services in the 9-county Bay Area.  Beginning in the fall of 2022, students enrolled at SRJC are eligible to receive a new Clipper® BayPass, which provides free public transportation in Bay Area counties, wherever Clipper® cards are accepted.
 
"The SRJC Clipper® BayPass will make it so much easier for me to get to classes, work, home, and discover my community and the bay area," said Santiago Carrillo Vallejo, SRJC Petaluma student.
 
The program will run for two years.  SRJC students will remain eligible through the summer of 2024, as long as they remain enrollled in SRJC.
 
The Clipper® BayPass enables unlimited travel on all Bay Area transit services, and participants are encouraged to use it for all of their travel needs. Participating agencies include:
AC Transit
BART
Caltrain
City Coach
County Connection
Dumbarton Express
FAST
Golden Gate Ferry
Golden Gate Transit
Marin Tranist
Muni
Petaluma Transit
SamTrans
San Franciso Bay Ferry
Santa Rosa City Bus
SMART, Sonoma Marin Area Rail Transit
SoldTrans
Sonoma County Transit
Vine
VTA
WestCat
Wheels
The Clipper® BayPass will initially be available to students at SRJC, San Francisco State University, San Jose State University, and the University of California's Berkeley campus, and later expanded to include select residents of San Mateo County housing complexes. While all students at SRJC will be offered the Clipper® BayPass, only about a quarter of students at the other campuses will be invited to participate in the pilot program. The intention of the program is to study the effect of an all transit pass on public transit use. This research will be based on information generated by the Clipper® System, as well as through student surveys. Findings from the study will inform the development, pricing, and implementation of future institutional pass products.
 
MTC is the transportation planning, funding and coordinating agency for the nine-county San Francisco Bay Area. MTC operates the Clipper® system on behalf of the region's transit agencies.
 
More information is available at clipper-baypass-faq