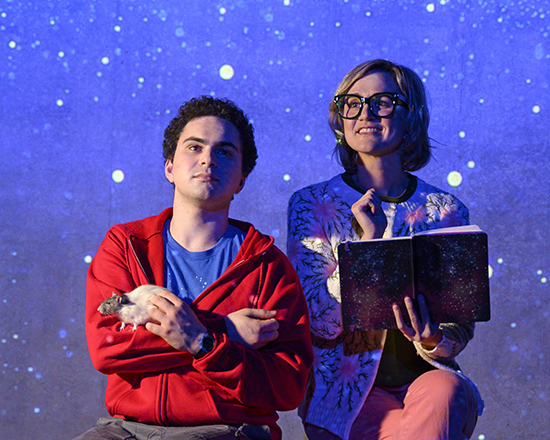 February 17, 2022, Santa Rosa, CA — The Santa Rosa Junior College (SRJC) Theatre Arts department will perform Simon Stephen's "The Curious Incident of the Dog in the Night-Time" between March 4 - March 13 in the new Studio Theatre, which was added onto Burbank Auditorium during that building's renovation.  Based on Mark Haddon's novel, this play is a hero's journey, an adventure beginning with the death of a neighbor's dog. 
When fifteen-year-old Christopher Boone discovers his neighbor's dog Wellington had been stabbed with a garden fork during the night, he is determined to find out who killed him. Intelligent yet uncomfortable with strangers and prone to misreading social cues, Christopher pushes himself beyond his comfort zone to find answers. Encouraged by his teacher, Siobhan, he records his story in a notebook, making discoveries about his personal life and relationships in the process.
"Christopher's story isn't just the events that unfold," said director Laura Downing-Lee. "It is how he experiences the world – the sounds, textures, lights, colors – as well as his amazing perceptiveness about that world and the people within it. I hope we can give audiences a dynamic sense of what it means to be Christopher."
Theo Marvin, a junior at Sonoma Academy, is playing Christopher, a role to which he brings personal experience.
"I'm autistic, and I want to bring an autistic experience more into the mainstream," Theo said. "I was diagnosed in the summer of 2021 and the diagnosis helped put a lot into perspective for me."
Five cast members and one of the student designers identify as neurodiverse. In addition, most of the cast have family and friends who are neurodiverse or have worked with individuals who are.
Three SRJC student designers help bring Christopher's world to life. Chris Cota is making his lighting design debut and Luca Catanzaro has designed the props. Kris Hakim returned from Singapore to create the scenery and projections. Costumes, makeup, and hair design are by the department's newest full-time faculty member, Coleen Scott Trivett, and the show's sound design is by faculty member Justin Smith. Actors received dialect coaching from Dr. John Rustan. Kimberly Starke, Dean, Disabled Students Programs & Services, serves as a consultant for the show.
Laura Downing-Lee directs "The Curious Incident of the Dog in the Night-Time." She is retiring in May from full-time teaching after 23 years at SRJC. 
Show times are:
March 4, 5, 9, 10, 11, 12 at 7:30 p.m.
March 6, 12, 13 at 2:00 p.m.
Tickets are available at the SRJC Theatre Arts Online Box Office, by phone at 707-527-4307, or at the Burbank Auditorium Box Office on performance days, one hour before each performance. Due to current Covid restrictions, the box office is closed to walk-up sales during the day, but staff can be reached Monday through Friday, 10:00 a.m. to 2:00 p.m. (4:00 p.m. on Wednesdays) or by email at SRJCBoxOffice@santarosa.edu.
Audience members must show proof of full vaccination status before entering the theatre and are required to wear masks at all times inside the building, per current SRJC policy. Audience capacity is limited to 100 patrons.
Due to moments of strong language and brief domestic violence, this play is recommended for audiences ages 13 and older.
The Curious Incident of the Dog in the Night-time is presented by special arrangement with Dramatists Play Service, Inc., New York.
Visit the SRJC Theatre Arts website theatrearts.santarosa.edu for more information.