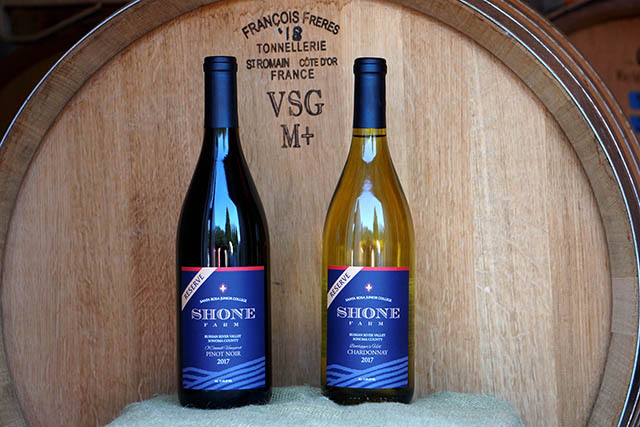 September 23, 2020, Santa Rosa, CA – Ted Elliott, one of Sonoma County's most celebrated veteran winemakers, recently donated newly released reserve wines, including his 2017 vintage of chardonnay and pinot noir, to the Santa Rosa Junior College (SRJC) Wine Studies program at Shone Farm. This program teaches production, analysis, sensory evaluation, marketing and sales. This semester, students are learning about marketing a new release of reserve wines from different vineyards in the Russian River Valley, including Elliott's donated wines.
 
Elliott is well-known in the wine industry for co-founding Carmenet Winery, being the CEO and jack-of-all-trades at Sonoma-Cutrer and creating his label, TR Elliott. His donation adds a variety of new and old-world style wines to the Shone Farm line up. They were made with Russian River Valley grapes from Bootlegger's Hill, Pratt Vineyard and O'Connell Vineyard. He believes these vineyards' terroir provides some of the very best Pinot Noirs and Chardonnays in the Russian River Valley. They are sold to prestigious wineries including CIRQ and MacPhail Wines.
 
"We are thankful that Ted Elliott supported the SRJC wine program with this generous donation. These wines are excellent and offer our buyers a slightly different style than our estate wines. I am excited to be able to offer them," said Kevin Sea, Instructor and Coordinator, of the SRJC Wine Studies Program.
 
The Ted Elliott reserve wines will be available to order online at https://shonefarm.santarosa.edu/winery or through the Shone Farm Wine Club. All proceeds from the sale of any of our wines are reinvested into the educational goals of the winery.