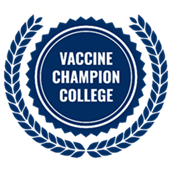 August 4, 2021
Dear Colleague,
As we prepare for the start of the fall semester, I'd like to provide you the updated version of the SRJC Plan for a Safe Return to Campus on the SRJC COVID-19 Information page, which now reflects the latest changes to CDC, state, county and Cal/OSHA requirements. This plan provides guidelines for returning more services and a larger number of in-person class sections to our campuses and sites, while still maintaining safety protocols and practices intended to keep our community safe. Changes are coming through constantly and we will provide you additional updates as appropriate.
The most important points include:
Mask requirements: Masks are still required in all indoor SRJC spaces, and are not required outdoors at this time.
 
Social distancing: There are no more social distancing requirements in indoor or outdoor spaces.
 
Building sign-ins: In the event of a positive COVID-19 infection occurring on campus, we are required by Cal-OSHA to alert all employees who may potentially have been exposed. As such, we will be implementing sign-in sheets at the entrances to all SRJC buildings so that we are able to inform individuals appropriately in such an event.
 
Symptom checking: Symptom self-checks are still required prior to entering a building on any SRJC campus or site.  On-site temperature checks are no longer required.
*Please note that the regulations may change at any time, particularly in the case of an outbreak.
SRJC supports vaccination as an effective method for preventing both transmission and serious illness or death from COVID-19. If you are not vaccinated, please consider contacting either SRJC Student Health Services, your personal medical provider, or the county health department to schedule a COVID-19 vaccination appointment.
Thank you for continuing to remain attentive and flexible as we work together to prepare our campuses for the fall semester. Please review the SRJC Plan for a Safe Return to Campus and feel free to reach out to me with any questions.
Sincerely,
President Frank Chong