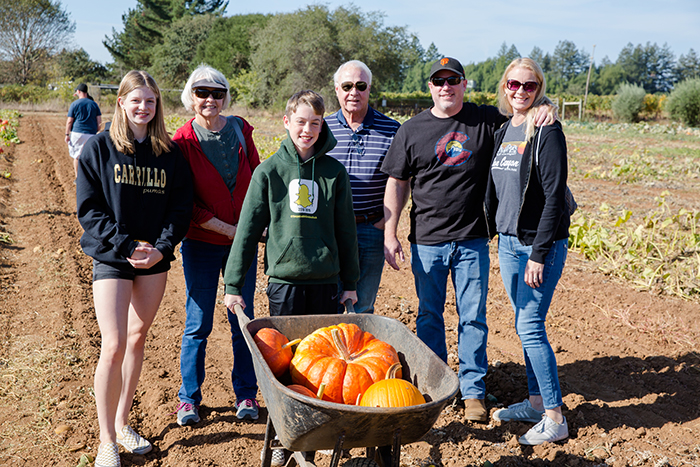 September 8, 2022, Forestville, CA —Santa Rosa Junior College's (SRJC) Shone Farm will hold its annual Fall Festival on Saturday, Oct. 8 from 10:00 a.m. to 3:00 p.m. The farm is located at 7450 Steve Olson Lane.
 
Shone Farm invites the community to experience the garden during harvest season. SRJC's Agriculture and Natural Resources Department students and instructors will facilitate activities and present an abundance of food.
 
Entrance fee is $5 per car and tickets are available online. No dogs, except assistance dogs, are permitted.
 
A farm stand will highlight Shone Farm fresh seasonal produce, and the tasting room will be open to try the farm's award-winning, estate-farmed wines.  Enjoy lunch options featuring Shone grown ingredients, chili and corn bread made by Food for Thought, Sushi Shoubu's food truck, and burgers and snacks from the Sebastopol FFA.
 
Farm activities include:
U-pick pumpkins and apples
Kids' zone including rotten fruit slingshot and compost lessons
Showcase of student enterprise projects including cut flowers, indigo, and hemp
Tractor show and tell, farm equipment displays
Wildfire resiliency discussion in the forest
Sheep shearing and wool spinning
Farm tours
 
Student employee, Jade Walker-Levine, has helped at previous farm events and said she loves "seeing all the families coming together and the community it created. It was great to see so many smiling faces."

For more than four decades, Shone Farm has been a field laboratory and teaching resource for SRJC's Agriculture and Natural Resources students. They benefit from direct, hands-on experience as they learn about natural resource management and conservation, sustainable agriculture, winemaking, viticulture, and animal health and livestock management. During this event students in both the direct farm marketing and wine studies classes will get hands-on experience planning and working an event.
 
More information about the Fall Festival and ticket sales is available at https://shonefarm.santarosa.edu/fall-festival.