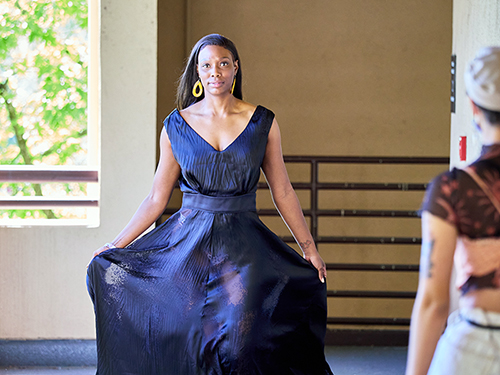 May 5, 2022, Santa Rosa, CA—The Santa Rosa Junior College (SRJC) Fashion Studies spring fashion show, "The Future Remembered," is a story about shifting the focus from what was and is, to what could be. It is a celebration of creative potential and will take place on Saturday, May 14, at 5 p.m., in SRJC's Petaluma Student Center. 
 
The student-produced fashion show features garments and accessories designed and made by Fashion Studies students and alumni. It will be the department's first live event since the beginning of the pandemic and their debut show after moving the program to Petaluma last year. The event will raise awareness about the program and celebrate its new home on SRJC's Petaluma campus.
 
Rey Cruz, fashion show co-director, is in her first year at SRJC and the Fashion Studies Program. She came up with the show's theme and has found it inspiring to see the student contributions and collaboration grow it from an abstract phrase to a collective vision.
 
One of the many reasons she likes the Fashion Studies program is because it allows students to explore numerous aspects of the industry, from the business to patterning, and to do any part of it they like.
 
"There are so many resources just waiting for you to create, to invent what you want," said Cruz. "The energy and opportunity are there and it's up to the creator to explore and make the most of it."
 
"I am very excited," said Emily Melville, Fashion Show class instructor and the program coordinator, "to be guiding the students on this event recognizing and showcasing the hard work, creativity, and perseverance of our fashion students despite all the challenges we've faced these last two years."
 
Following the main runway portion of the fashion show, awards will be announced for the annual design contest. This year's contest, "ReThink, ReFashion, ReColor," features two design categories; upcycling and natural dying.
 
Tickets, at no cost, are required for this limited capacity event and can be found at https://linktr.ee/SRJCFashionShow started on May 4.


For more information on the SRJC Fashion Studies program visit https://fashion.santarosa.edu/.