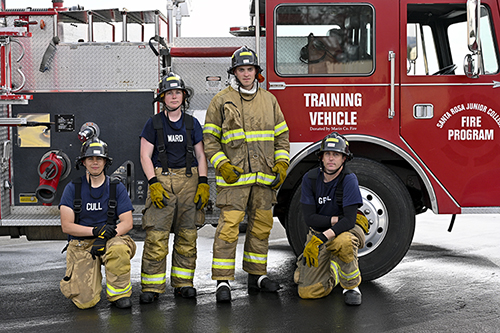 April 28, 2022, Santa Rosa, CA –Santa Rosa Junior College's (SRJC) Firefighter Academy has been presented with the inaugural Ronny J. Coleman Academy of Excellence Award by the State Fire Training (SFT) division of California's Office of the State Fire Marshal (OSFM). This honor is awarded annually to an Accredited Regional Training Program (ARTP) or Accredited Local Academy (ALA.)  There are 40 ARTPs and 25 ALAs in the State of California. 
SFT honors an academy that constructively influences its students through leadership while establishing and promoting best practices. These outcomes produce fire service members who step up and consistently demonstrate competence, grit, humility, presence, resilience, self-mastery, self-regulation, trust, vigilance, and wellness.
SRJC's Fire Academy was recognized for developing supportive training and education processes and programs that improve the caliber and quality of the California fire service. 
The applicants were evaluated and scored on:
Constructive Influence – demonstrated ability to lead, which impacts the organization, local partners, and/or the California fire and rescue services.
Best Practices – demonstrated ability to seek out and adopt or develop best practices.
Research and Development – processes or programs that improve the caliber and quality of California's fire and rescue services.
Replicability and Collaboration – the ability of other ARTPs or ALAs to implement a similar practice.
"Thanks to everyone that made this possible," said SRJC's Fire Technology Director, Ken Sebastiani, "including the Board of Trustees, Dr. Chong, Dr. Saldana-Talley, Dean Adams, Fire Academy Coordinator Kim Thompson, and all of the faculty and staff at the Public Safety Training Center."
SRJC's Fire Technology Program is located in one of the finest regional facilities for public safety training in the state. SRJC's Public Safety Training Center (PSTC) opened in 2002. Its modern accommodations enable outstanding training from top instructors in the latest techniques and technologies for fire operations, prevention and safety.