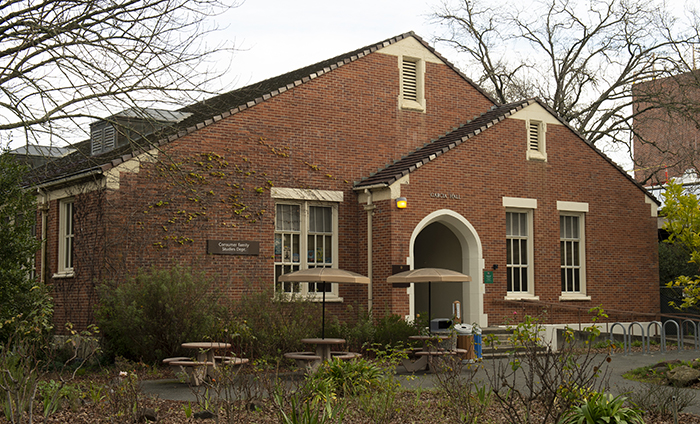 September 19, 2022 – Santa Rosa Junior College's (SRJC) Communications Studies Department, in partnership with the Sonoma County Junior College District Board of Trustees and Capital Projects Department, is inviting the community to attend the ribbon cutting for their new home in Garcia Hall. The event will take place on Friday, September 23, from 2-3 p.m. at the south entrance to Garcia Hall, on the Santa Rosa Campus, 1501 Mendocino Avenue.
"Our department has never had its own building, and our programs have never been centrally located," said Communication Studies Department Chair Michael Traina. "Moving into Garcia Hall marks a new era for our department."
In addition to cross-collaboration between programs, SRJC Dean of Arts and Humanities Kerry Loewen, is especially excited about the 49-seat screening room, and that The Oak Leaf, SRJC's award-winning, student-led news media, will now have a modern, dedicated news room.
The festivities will begin with brief program remarks about the project by SRJC President / Superintendent Dr. Frank Chong, Board President Dorothy Battenfeld, Citizens Bond Oversight Committee Chair Michael Coutré, Dean of Arts and Humanities Kerry Loewen, Communication Studies Department Chair Michael Traina, and Sean Young, Co-Editor-in-Chief, The Oak Leaf.
The ribbon cutting and an optional building tour will conclude the event, with attendees having the opportunity to learn about course offerings and to view student films. Screenings will be shown in the following spaces:
Classroom 100: Speech Classes and Forensics
Screening Room 101: Student Short Films
News Room 106: Oak Leaf Articles and News Reels (produced by Journalism 55 Multimedia Journalism students)
Media Lab 107: Digital Filmmaking 
The beautiful Garcia Hall renovation was funded by Measure H, the $410 million bond measure approved by voters in November 2014 to upgrade SRJC facilities and technology. Every SRJC site is reaping the benefits of new construction, renovation, and infrastructure projects funded through the bond.
"Sonoma County is a great place to live and work," said Dr. Chong. "We are so appreciative for the support of our community, which helps SRJC provide high quality education to Sonoma County students. This new home for the Communication Studies Department is just one example of the new learning environments that will benefit Sonoma County for generations to come."
For more information about the Communication Studies Department visit: https://comm-studies.santarosa.edu   
For more information about Measure H visit: http://bond.santarosa.edu