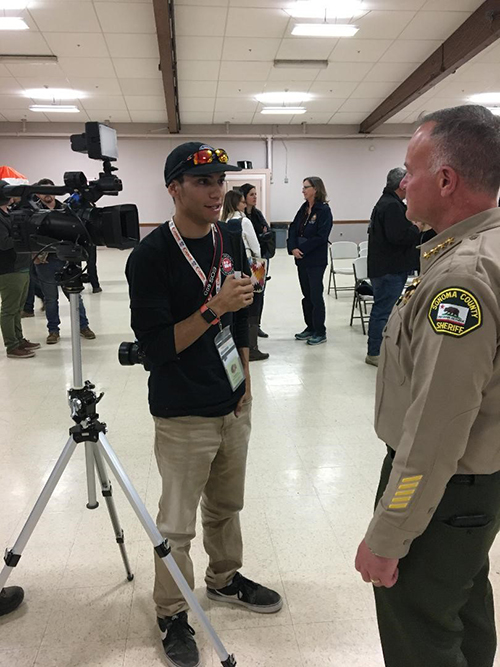 April 27, 2021, Santa Rosa, CA — Four Santa Rosa Junior College (SRJC) Journalism students were chosen to participate in the Democracy and the Informed Citizen Emerging Journalist Fellowship program for spring 2021. Participants receive enhanced training in local and community-engaged journalism, podcasting, media literacy, and mentoring from professional journalists. Each student also receives a $2,100 stipend.
 
Rebecca Bell, Maritza Camacho, Lauren Spates and Nick Vides are part of the statewide cohort of 32 fellows, which convened virtually for its kick-off media summit in January. Regular assemblies offer the students opportunities to make connections with peers in different regions, share their work, reflect on their role as journalists and media makers, and learn practical skills.
 
The initiative's goals are to incorporate the insight and perspective of journalists and the context and inquiry of the humanities to develop critical journalism skills and encourage media literacy and civic engagement. The fellows are conducting focused group reporting projects on important regional issues.
 
"The students are excited to use this opportunity to research and report on the cumulative impacts climate change has had on Sonoma County residents, and how those impacts may differ based on economic class," said SRJC Journalism instructor Anne Belden.
 
"Our project will be an in-depth coverage of crisis fatigue in the North Bay, from wildfires to floods, etc.," said Vides, Senior Editor of SRJC student newspaper The Oak Leaf.
 
Vides has captured images from the front lines of major events for the past four years and would like to be a breaking news reporter/photographer with a Bay Area news outlet.
 
Spates is a 36-year-old mom who enrolled at the JC to sharpen her skills and to refresh her portfolio after a hiatus in her journalism career. She would like to get a job as a reporter, telling long-form, narrative-type stories.
 
"This fellowship is an opportunity to practice my skills for a large audience since some projects can go on to run at major professional outlets," said Spates. "It's also a great confidence boost, which helps me stay motivated. It makes me feel like it's not too late for me to be successful in the field." 
 
"I love the opportunity to get feedback and advice directly from media professionals who show an interest in our development as journalists," said Bell, regarding the team's last fellowship session which included mentorship from Joaquin Alvarado. "We talked to him about how our project has been developing and he helped us refine different aspects of our podcast."
 
"What I like best about journalism is being able to deliver facts to people while also changing lives. I am changing the lives of people who can't use their voice or find it challenging to speak about issues that are significant to them," said Camacho. "This career allows me to do that by being the storyteller." 
 
To learn more, visit calhum.org.