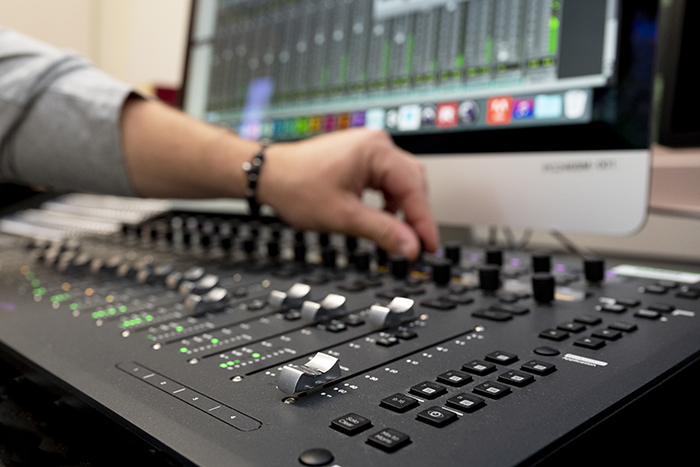 Aug. 31, 2021, Santa Rosa Junior College (SRJC) has revamped its Digital Media: Audio program to include a newly updated curriculum as well as a new recording studio on the Petaluma campus. The studio is furnished and designed for professional music recording using industry-standard equipment and modern recording technology. Students returning for fall 2021 will learn modern techniques for recording and editing audio and the business side of music, preparing them to enter the music industry.
 
"We are excited to unveil this great recording studio we've been working on for years, and get some students in there and using it," said Music Recording Instructor, Jake Stillman.
 
The new curriculum includes a class for students wanting to break into the music business, Music Industry 1 and 2 (MUSC 70A and 70B), which teaches both the fundamentals of the music industry and entrepreneurship. Students in the program can earn both a certificate and an associate degree.
 
In the two-part class, students will collaborate to accomplish duties associated with operating an independent record label. In the first portion, students will learn about contracts, album production, copyright, and record industry business models and practices. The second portion focuses on distribution, marketing, and release strategies. The class will work with an artist to both create and release content.
 
The Digital Media: Audio certificate requires 24 units, which can be taken in three successive semesters, making a certificate achievable in 1.5 years. Professionals with this certificate have career options in the music, film, and audio industries, including music producer, recording engineer, live-sound engineer, podcasting producer, sound designer, and more.
 
A music producer's average base salary in San Francisco is $60,000 a year. A sound engineer averages $85,000 annually.
 
Digital Media: Audio program courses are usually scheduled in Santa Rosa will continue in hybrid and online formats. For more information on the Digital Media: Audio program at SRJC, please visit https://digitalmedia.santarosa.edu/digital-audio.