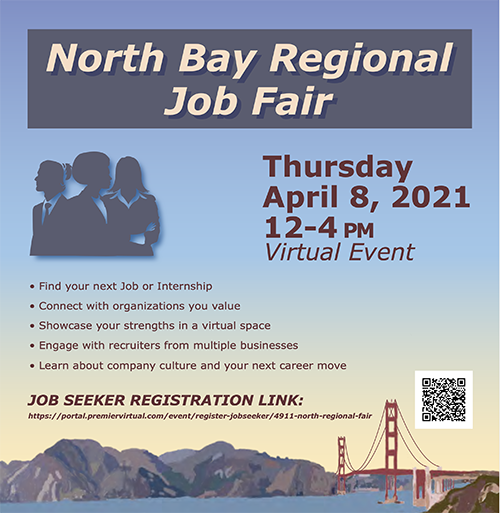 March 17, 2021, Santa Rosa, CA — Santa Rosa Junior College (SRJC) is one of several colleges and work force services collaborating in April's Virtual North Bay Regional Job Fair. Students, alumni and community job seekers will benefit from the broad audience and pool of resources created through this regional association, which includes Workforce Alliance of the North Bay (WANB,) Sonoma County Job Link, Lake, Marin, Mendocino and Napa county colleges and SRJC's Career Hub. The event runs from 12:00 p.m. to 4:00 p.m., Thursday, April 8, 2021.
 
The collaboration is a way for the college to further assist, train and guide their students, alumni and community members into careers for which they have studied, that they are passionate about and that meet the region's needs. Registrants can explore businesses, apply for jobs, network, and practice self-introductions.
 
Job seekers will have easy access to more than 75 North Bay businesses and recruiters. This virtual format is different from a traditional on-site job fair, where a lot of time is spent waiting in lines, resume in hand. The highly interactive platform has been designed so that job seekers can network efficiently, entering one booth while maintaining ongoing conversations with others. Attendees are encouraged to dress for success and be prepared for interviews.
 
"The goal is to have job seekers enter these booths courageously, with questions, prepared to present themselves as career ready," said SRJC Career Education Job Developer, Ann Mansfield. "It is a virtual environment. Do you have those skills? Because it could be that the job you're offered is in a virtual environment."
 
"Workforce Alliance of the North Bay (WANB) works closely with its educational partners in our area: Lake, Mendocino, Napa counties, and COM", said Sylwia Palczewska. "WANB was starting to plan a virtual job fair when we learned that COM and SRJC were planning the same. It was a natural decision to bring all the partners together to strengthen our efforts."
 
Participants include agencies and business from government, healthcare, hospitality, fitness, technology, finance, and more. A full list of participating employers will be available on the Career Hub website the 1st week in April. 
 
Job Seeker Registration Link:
https://portal.premiervirtual.com/event/register-jobseeker/4911-north-regional-fair