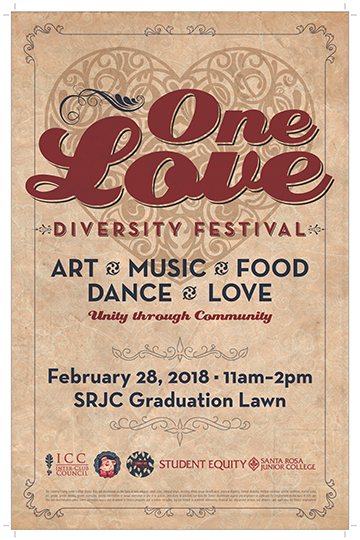 January 12, 2018 – The One Love Diversity Festival will take place on February 28 from 11:00 a.m. to 2:00 p.m. on the Santa Rosa Junior College
(SRJC) campus. The purpose of the festival is to unite the SRJC community, celebrate cultures, provide additional support resources and services, and promote student clubs. Entertainment will include intercultural activities and speakers, and global cuisine will be offered. Serving our diverse communities and strengthening our connections are an important part of SRJC's strategic plan.
Sponsored by Student Life, Equity & Engagement/Student Government Assembly/Inter-Club Council/SGA, the One Love Diversity Festival is free and open to the public. Activities will be in the Lawrence A. Bertolini Student Center and on the Quad in front of the building on the SRJC Santa Rosa campus. Parking is $4.