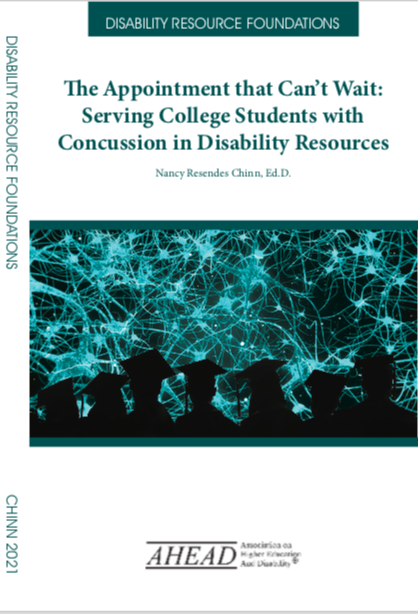 June 10, 2021, Santa Rosa - The Association on Higher Education and Disability (AHEAD) has announced the publication of a book written by Santa Rosa Junior College's (SRJC's) Dr. Nancy Resendes Chinn titled, "The Appointment That Can't Wait: Serving College Students with Concussion in Disability Resources." The book is the first of its kind to address the critical academic accommodation and support needs of college students who have sustained concussion. With chapters addressing the nature of concussion, the culture of sport, developing an interdisciplinary team approach, and the student-veteran and concussion, Dr. Chinn's monograph provides a comprehensive, practical, and research-based treatise. The book is aimed at those in higher education who want to learn how to develop a program that assists the student with concussion in navigating this potentially life-altering injury and returns them to the classroom successfully.  
 
Dr. Robert Nied, team physician for the NBA Golden State Warriors, provides the book's foreword and writes, "Written with equal parts passion, compassion, and expertise, The Appointment That Can't Wait is a thorough and step by step guide to developing a disability resource management plan. Meticulously researched, highly detailed, and annotated, filling a critical gap in our prescription pad… Most importantly, Nancy writes with wholeness and authenticity. Anyone who works in this space will immediately recognize the concussed student-athlete testimonials sprinkled through the book."  
 
In addition to being at the forefront of addressing the return-to-classroom needs of college students with concussion, SRJC's Drs. Chinn, Ohkubo (Monica), and Thomsen (Brianna) have contributed original research in the area of concussion education in sport. The International Journal of Sport and Society has published their most recent study titled, "Advances in Concussion Education, Contextual Procedure-based learning Enhances Concussion Reporting." The Contextual Procedure-based Learning (CPL) approach to concussion education was developed at SRJC. This research compared the CPL approach with traditional methods and found the CPL group was more likely to report a concussion than those who participated in traditional concussion education. In addition, those in the CPL group reported concussion in fewer days than those who received traditional education alone. These findings are significant, as the sooner concussion is reported, the less likely another potentially more serious concussion can occur, and the sooner concussion management protocols can be implemented.  
 
Dr. Chinn's book, "The Appointment That Can't Wait: Serving College Students With Concussion in Disability Resources is available for purchase on the AHEAD website:  Publications for Sale - AHEAD - Association on Higher Education And Disability 
 
Drs. Chinn, Ohkubo and Thomsen's article "Advances in Concussion Education, Contextual Procedure-based learning Enhances Concussion Reporting" published in the International Journal of Sport and Society is open access and available at https://doi.org/10.18848/2152-7857/CGP/v12i01/165-173