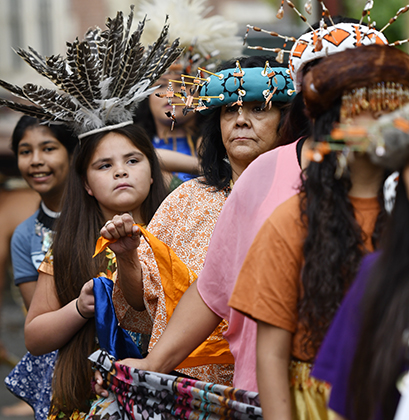 October 3, 2019, Santa Rosa, CA—Following tradition, Santa Rosa Junior College (SRJC) will celebrate Indigenous Peoples' Day on the second Monday of October.

A 2015 collaboration of the Student Government Assembly (SGA,)  the SRJC Superintendent/President, Movimiento Estudiantil Chicano de Aztlán (MEChA de SRJC,) and SRJC Inter-Tribal Council, resolved to recognize the importance of indigenous roots with a dedicated, annual event. Its purpose is to reflect upon the ongoing struggles of indigenous people and to celebrate the thriving culture and value that indigenous nations add to our county. The 2019 festival will be on Mon., October 14, from 10 a.m. - 2 p.m., on Analy Lawn, at the Santa Rosa campus.

Faculty member Dr. Brenda Flyswithhawks will offer a blessing during the opening ceremony, at 10:30 a.m.  She will then introduce local, Native leaders. Activities will include live music, local Pomo dancers, and Native art and food vendors.

SRJC Petaluma will also celebrate Indigenous Peoples' Day: A Brief Overview of California Indian History, on Monday, Oct 14, 12 p.m – 2 p.m. In this workshop, led by Rose Hammock, you will learn more about the indigenous tribes within Sonoma, Lake, and Mendocino County, followed by hands-on activities exploring significant objects from Pomo and Coast Miwok culture, such as baskets, jewelry, and traditional medicines, foods, and teas.

Indigenous Peoples' Day events on both campuses are free and open to the public. There is a $4 on-campus parking fee.