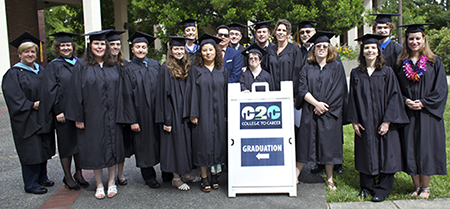 September 28, 2018, Santa Rosa, CA – The Santa Rosa Junior College (SRJC) College to Career (C2C) program has been ranked most successful in California for student completion and subsequent employment. 
The SRJC C2C program provides opportunities for students with intellectual disabilities and/or autism to go to college and obtain competitive employment in the career area of their choice. SRJC's program leads eight similar programs in the state in successfully closing student cases.
In the 2017-18 academic school year, the program employed 30 students, of which 19 met the requirements for a successful "closer," which is measured by completion of academic requirements and successful placement in a career of their choice. These numbers indicate that this program exceeds other C2C programs by 15-90%.
Founded at SRJC in 2011, the C2C Program is entirely grant-funded by the California Department of Rehabilitation.  Each year the program accepts roughly 20 students who begin a three-year program, taking classes both in the Disability Resources Department (DRD) and courses with their non-disabled peers in classes across SRJC campuses.  In August 2018, the C2C program started its seventh cohort and is currently accepting applications for the 2018-19.
Interim Coordinator Lindsay Lerro says that C2C allows these students to succeed in college. 
"C2C allows students to do something that many were often told they would never do: go to college and get a job," she said.
The C2C program provides services such as tutoring, planning, organization, career research, job development, advising, accommodations, and career curriculum to help support students through their three years in the program. 
Success coach Mary Schexnaydre has been with the program since its inception.
"I have seen magical things happen in this program.  In the three years that students are with us, I watch them transform from timid novices to confident professionals who have a strong sense of self," she said. "C2C helps students answer the questions: who am I, what I am good at, and what do I care about. Through their hard work and our belief in them, our students discover their place in the world."
 C2C Job Developer Noah Morris networks with community businesses and helps place students in careers.
"Our success today is the result of the passion of our students, dedication of SRJC, and commitment of the business community," he said. "Together we are creating a dynamic workforce that more closely reflects the population of Sonoma County."
Kimberly Starke, Dean of the Disability Resources is proud to support the success of the College to Career program and its students. 
"The College to Career program provides an inclusive environment for students with intellectual disabilities and autism to have a college experience that leads to successful employment opportunities," she said. "The success of this program is a direct result of the Faculty and staff that run the program, the students who take pride in the opportunity to learn and contribute to our community, and the District that expects nothing less than equity and excellence."
# # #