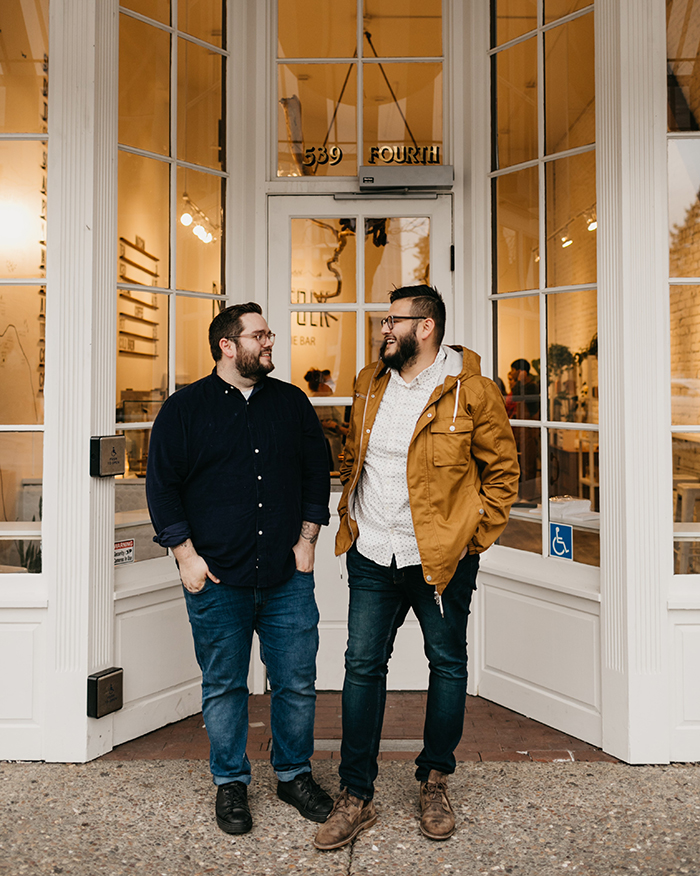 May 14, 2019, Santa Rosa, CA — Santa Rosa Junior College's (SRJC) 100th commencement ceremony will be held on Saturday, May 25, at 9:00 a.m., featuring commencement speakers Osvaldo (Ozzy) Jimenez and Christian Sullberg, co-founders & owners of three retail establishments in Sonoma County: Noble Folk Ice Cream and Pie Bar in downtown Santa Rosa and Healdsburg and Moustache Baked Goods in Healdsburg.
Jimenez and Sullberg met in their early 20s while attending SRJC, where they say they were motivated and supported by their professors. "SRJC was a safe space for me after I came out in high school as gay. I found support and acceptance from strong female professors like Brenda Flyswithhawks, Nicole Slovak and Laura Larque, who molded who I am today," Jimenez said.
"I started taking classes at SRJC after graduating from Healdsburg High School because SRJC had such a great reputation," Sullberg said. "As I was trying to figure out what to do with my career, I knew I liked food and baking. I was working as the head cake decorator at Oliver's Market so I enrolled in SRJC's culinary arts program."
The two say they rely on their love of learning to help their multiple business ventures stay relevant and innovative. A Stanford-based program to help Latinos scale their businesses connected them to valuable mentors, while a competitive LGBTQ leadership initiative developed by Coca-Cola gave them deeper insight into building and empowering strong teams. They also share the knowledge they've gained from these experiences by mentoring and encouraging other small business owners in Sonoma County.
However, they say it's their involvement in the community and their passion for supporting youth that delivers the most personal reward. Sullberg serves as board president for Positive Images, an LGBTQ+ nonprofit serving youth, and is a fellow of the Coca Cola LGBTQ Leaders initiative in partnership with the Victory Institute.  Jimenez serves as vice chair for Healdsburg Forever, a community endowment is a fellow of the Stanford Latinx Entrepreneurship initiative, and was recently elected the Democratic Assembly Delegate for District 2.
"We want to empower people to engage, especially young people," Jimenez said. It's that belief, and their work to actively engage in their community, which led to their selection as the 2019 SRJC commencement speakers.
The ceremony
SRJC's graduation ceremony takes place on the Lawrence A. Bertolini Quad on SRJC's Santa Rosa campus. It is free to attend; tickets are not required, and parking on campus is free on that day.
Nearly 1,700 students are expected to receive degrees this year, with approximately 500 of them attending graduation. SRJC officials expect to award nearly 2,300 degrees, as many students earn more than one degree. The youngest graduate is 14 years old, and the oldest is 68 years old. In addition, students will receive more than 2,800 certificates in Career Education at the end of the spring semester.