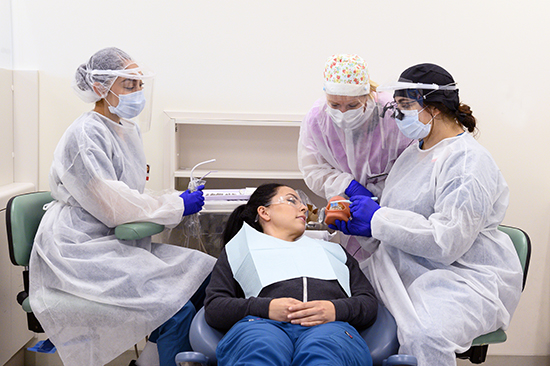 October 28, 2020, Santa Rosa, CA – Santa Rosa Junior College's (SRJC) dental hygiene teaching clinic has been providing community services for 21 years and continues to take patients during the Covid-19 pandemic. They work closely with the Sonoma County Health Department and are following all CDC guidelines to ensure that patients can receive safe and effective dental hygiene treatment. 
 
"The main goal of dental hygiene is prevention, and prevention should not stop during this pandemic," said Cindy Fleckner, first year coordinator and dental hygiene program director. "Patients need our services more than ever, and the protocols we have set in place are allowing us to continue to provide outstanding care to the community."  
 
Each year the dental hygiene program accepts 24 students who get experience by working on patients. Students are supervised by clinical faculty comprised of registered dental hygienists and dentists. The ratio of students to faculty is five to one. Clinical instructors evaluate all procedures, with supporting documentation, for the patients' particular dental hygiene needs. Since the program's inception in 1999, 99% of SRJC's dental hygiene students have successfully passed the National Board exam on their first attempt.
 
Clinic services include standard or deep cleaning (with local anesthesia), X-rays, sealants, fluoride treatments, interim therapeutic restorations and documentation for their dentist should further treatment be required. The $70.00 cost includes x-rays. |
 
"A few years back I needed an inexpensive dental cleaning," said patient Jesse Hilsenrad. "I tried out the SRJC dental clinic, and I was very pleased with the experience. The fee was affordable, and the staff was very friendly. I would recommend the service wholeheartedly."
 
For appointments call (707)522-2844. A dental hygiene student will be appointed and will contact the patient with further information about the clinic and current protocols, and to answer any questions before the appointment. 
 
The SRJC Dental Hygiene Teaching Clinic is on the first floor of the William B. Race Health Sciences Building, on the Santa Rosa Campus, off of Elliott Avenue. 
 
Patients may use this link to fill out documents to bring to their first appointment https://dentalprograms.santarosa.edu/please-complete-and-bring-all-paperwork-day-your-first-appointment-our-clinic
Clinical Session Times
Fall Semester Hours: August 18 – December 10
Monday 7:30 – 11:30 a.m. and 1:00 – 5:00 p.m. 
Thursday 7:30 – 11:30 a.m. and 1:00 – 4:00 p.m.
Spring Semester Hours:  January 21 – May 17
Monday 7:30 a.m. – 11:30 a.m. and 1:00 p.m. – 5:00 p.m.
Thursday 7:30 a.m. – 11:30 a.m. and 1:00 p.m. – 4:00 p.m.
Beginning in mid-February
Tuesday 8:00 a.m. – 11:00 a.m. 
Friday 8:00 a.m. – 11:00 a.m. and 12:30 p.m. – 3:30 p.m.