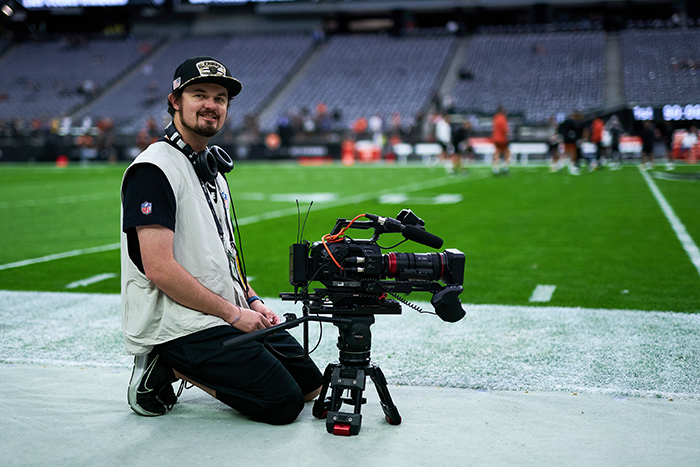 July 28, 2022, Santa Rosa, CA — In June, former SRJC Digital Filmmaking student, Sam Freed, won an Emmy from the National Academy of Television Arts & Sciences, Pacific Southwest Chapter. He received the award in the "Promotion - Long Form Promotional Spot" category for his role in producing the Raiders' 2021 Schedule Reveal Feature, The Quiet's Almost Over.
 
Freed reached out to SRJC Digital Filmmaking instructor, Brian Antonson, to let him know he'd won his "first Emmy," and to acknowledge his first digital filmmaking instructor and the roots of his career planted in SRJC's program. In 2013 he studied Digital Video Production and Digital Editing.
 
"I remember Sam as being a real go-getter," said Antonson. "He was also very friendly and got along with lots of different types of people. Those two qualities, being flexible with different personality types and being hard-working, are formulas for success. I'm not surprised at all that Sam is doing well. And obviously, I'm very happy for him."  
 
Freed was excited about going to class and couldn't wait to see what was on the day's agenda. The hands-on production with other students was the best part of the class for him because they would break out into film crews on different assignments and be in different roles each time. For one project he would be in charge of sound, for another project the editing, and for another, producing. He found getting experience with each role helpful and enjoyable. 
 
After receiving his AA in Behavioral and Social Sciences from SRJC, Freed continued his studies with a mentor program and interned at Atomic Video Productions in Emeryville. He has been working in the field since then as a videographer, camera operator, editor, producer and in other production roles.
 
Freed is a cinematographer, editor, and producer on the Las Vegas Raiders' Silver and Black Productions team. For the Emmy-winning promotional production, he helped with the shot design and storyboarding.
 
"Working on a film crew for an NFL team was my ultimate goal," said Freed. "I never thought I would ever get to this level. Being around some of the best athletes in the world and getting to know them on a personal level is surreal. I get to sit, eat lunch and travel across the country with them. It's truly incredible. During the season it is non-stop, however. I'm usually working 6 days a week. Calling this my career is remarkable." 
 
To learn more about the Digital Filmmaking Program at SRJC, please visit
https://comm-studies.santarosa.edu/film-media-and-production-courses
 
Raiders' 2021 Schedule Reveal Feature, The Quiet's Almost Over
https://www.raiders.com/video/raiders-2021-nfl-schedule-reveal-feat-charles-woodson
Photo of Sam Freed by Raider team photographer, Matt Aguirre