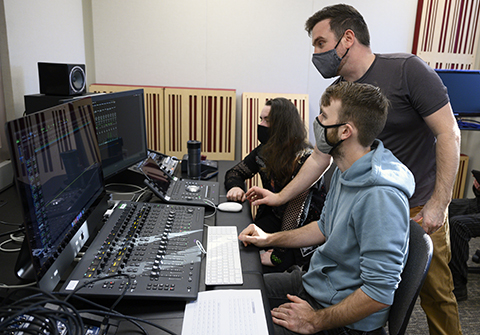 July 14, 2022, Santa Rosa, CA –Santa Rosa Junior College (SRJC) students in the revamped Digital Media: Audio program recently started their own recording label called Don't Flunk Me Records. In spring 2022, they created and released the single, "As We Go," with Bay Area alternative rock band, Columba Livia.
 
This program is aimed at students wanting to break into the music business. They learn modern techniques for recording and editing audio using industry-standard equipment and modern recording technology in the new recording studio on SRJC's Petaluma Campus, which was furnished and designed for professional music recording.
 
Students also learn about contracts, album production, copyright, recording industry business models and practices, and music marketing and distribution, including data analytics and release strategies.
"A notable example of how we were able to assist the artist," said Music Recording Instructor, Jake Stillman, "includes a Spotify growth campaign in which we were able to grow their listeners by 102% and their streams by 159% in just the three weeks following the release."
 
Stillman has collaborated with Brian Antonson's film class, which will complete the music video for "As We Go" in fall 2022.  
 
The Digital Media: Audio certificate requires 24 units, which can be taken in three successive semesters, making a certificate achievable in 1.5 years. Professionals with this certificate have career options in the music, film, and audio industries, including music producer, recording engineer, live-sound engineer, podcasting producer, sound designer, and more.
 
Students in the program can earn both a certificate and an associate degree.
 
A music producer's average base salary in San Francisco is $60,000 a year. A sound engineer averages $85,000 annually.
 
For more information on the Digital Media: Audio program, please visit https://digitalmedia.santarosa.edu/digital-audio.