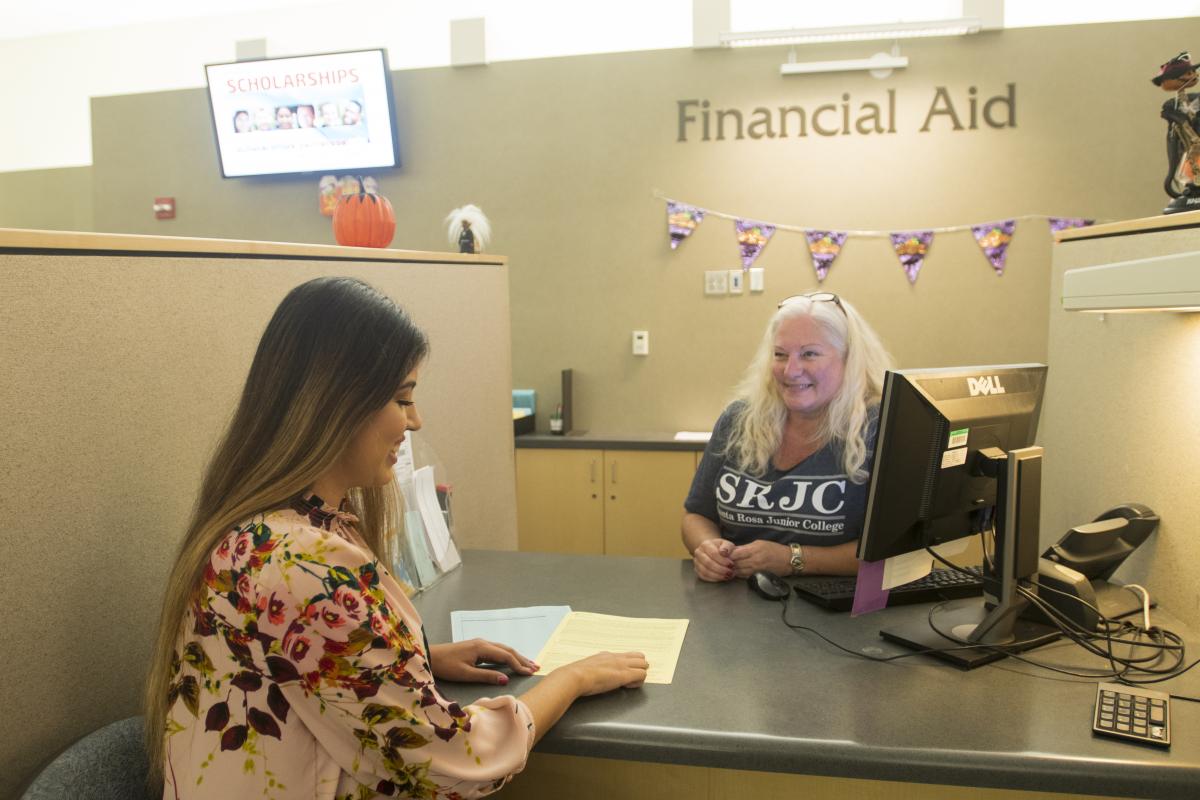 January 28, 2019, Santa Rosa—Santa Rosa Junior College (SRJC) aims to maximize the financial aid its students receive through outreach, education and additional incentives for those who apply.
Between Assembly Bill 19 (AB19), the California College Promise, and the SRJC Doyle Scholarship, many students are eligible to be reimbursed for their entire first year of tuition. Students can use this reimbursement to pursue an associate's degree, participate in a certificate program or obtain the units necessary to transfer to a four-year institution, tuition-free.
Director, Student Financial Services Jana Cox said that the biggest hurdle to providing students these funds is getting them to apply.
"Currently only 33% of our full-time students apply for financial aid," she said. "But 86% of those who apply qualify. The financial aid team at SRJC wants to help more students receive the funds they're entitled to."
In order to support this effort, SRJC will host a Financial Aid Awareness Week Feb. 4-7, 2019. Advisors will be available at multiple events to help students complete the Free Application for Federal Student Aid (FAFSA) and/or California Dream Act Application (CADAA). The week will conclude with a Financial 
Aid Fun Fair on Thursday, Feb. 7, 10:30am-1:30pm in the Lawrence A. Bertolini Student Center Quad on the Santa Rosa campus. The rain location will be the Girvin Family Student Activities Center. There will be free food, activities and financial aid staff to assist students.
SRJC President Frank Chong said that he hopes that these efforts help inform more students that they are eligible for financial aid.
"SRJC is committed to finding students the resources to attend our college," he said. "Finances should no longer be a barrier to obtaining an education."
More information on free college is available at https://srjcforfree.santarosa.edu/
Assembly Bill 19, California College Promise
In October 2017 the California State legislature passed Assembly Bill 19, known as the California College Promise, which provides financial aid to first-time college students attending a California community college with a full-time course load of 12 or more units, regardless of income. This aid covers student enrollment fees of $46 per unit, for those who qualify.
The full text of the legislation is available here.
SRJC Doyle Scholarship
SRJC offers the SRJC Doyle Scholarship, which provides financial assistance to eligible students who graduated from high school in the current school year with an unweighted grade point average of 2.0 or higher. This assistance, totaling up to $1,200 per student is available for eligible students who enroll full-time at SRJC.
Doyle Scholarships are funded by the Frank P. Doyle and Polly O'Meara Doyle Trust. Since 1950, more than 127,000 students have received Doyle Scholarships, totaling more than $82 million.
These scholarships also have recently expanded to include continuing fulltime SRJC students with a minimum 2.5 GPA.
More information on Doyle Scholarships is available at scholarships.santarosa.edu.
Applying for Scholarships
Students can apply for financial aid at the links below or can reach out to the staff at the SRJC Student Financial Services Office for application assistance: scholarships.santarosa.edu
·         Complete the Free Application for Federal Student Aid (FAFSA)
·         Alternatively, complete the California Dream Act Application (CADAA), if applicable