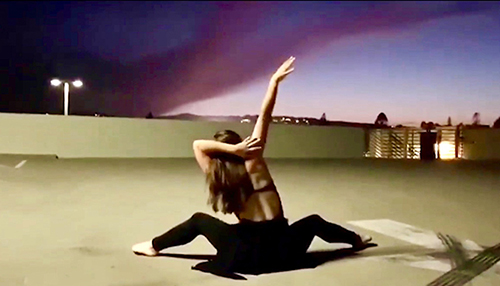 December 11, 2020, Santa Rosa, CA – The Santa Rosa Junior College (SRJC) Dance Program presents its Fall Dance Celebration. This is their second digital collection of dance faculty and student-choreographed works in various dance forms. These movement performances will showcase the artists' dedication, passion and motivation to stay connected to the art of dance and honor the world-wide dance community by continuing to dance alone together.

The choreographers are Allissa Dolcini, Deanna Dubinin, Cassady Loveless, Sofia De La Rosa and instructor, Casandra Hillman. The students enrolled in Choreography 1 - Dance 3.1 have had constant solo projects during the semester. This group production is the culmination of their theory of choreography studies. Twelve dancers have filmed their work in backyards, garages and on location in various outdoor spaces, according to their levels of comfort. Bella Hawkins is the video editor.
 
The performance will be online, and the Vimeo link will be posted December 18 on https://dance.santarosa.edu/
https://www.facebook.com/SrjcDanceProgram, and Instagram: @srjcdanceprogram
Performances are December 19, 2020, at 10 a.m., 2 p.m. and 7 p.m., and December 20, 2020, at 10 a.m., 2 p.m. and 7 p.m.
 
Tickets are free or pay what you can.
Photo credit: Deanna Dubinin