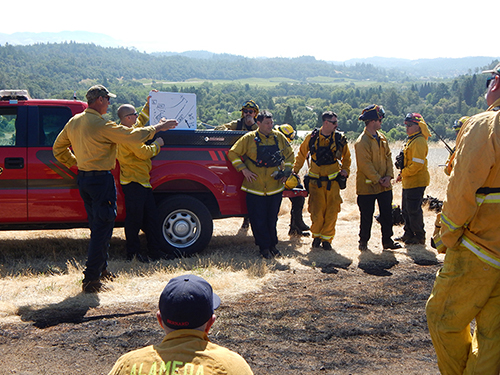 May 27, 2021, Windsor, CA – The Santa Rosa Junior College (SRJC) Fire Technology Program will conduct a training burn at Lake Sonoma Dam on Wednesday, June 2, Thursday, June 3, and Friday, June 4, 2021, from 9:00 a.m. to 2:00 p.m.   The goal is to burn 80 acres on the surface of the dam while conducting a firing operations class to train local firefighters. Smoke will be visible from early morning to early afternoon.  Firefighters will remain on-site to ensure complete extinguishment after completion of training each day.

The burn has been conducted for many years to allow Army Corps of Engineer personnel the opportunity to inspect the dam. The SRJC Fire Program running training in conjunction with the event provides an additional opportunity for new and current firefighters. Fire Program Director Ken Sebastiani stated, "The course will benefit local fire agencies and their communities by allowing fire personnel to obtain the training required to fight devastating wildfires and the JC is grateful to the Army Corp for allowing the use of their facility to make it a reality."

Controlled vegetation management burns are carefully planned and must meet strict criteria for ecological benefit, weather parameters, smoke management, and fire safety guidelines. When all conditions are met, trained wildland firefighters conduct the burn while monitoring the set criteria, fire behavior, and designated fire control lines.
 
For more information on the SRJC Fire Technology Program, please visit https://pstc.santarosa.edu/fire-technology.