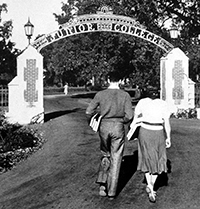 Santa Rosa Junior College, founded in 1918, is the tenth oldest of California's 109 publicly funded two-year colleges. From its initial freshman class of 19 students, SRJC has become one of the largest single college districts in the United States, Sonoma County Junior College District.
With 15 major high school districts within its borders, the District encompasses more than 1,600 square miles from the southern border of Mendocino County to the northern tip of Marin County. The District is bounded to the west by the Pacific Ocean and to the east by Napa and Lake counties.
The District operates two campuses in Sonoma County: a 100+ acre campus in the heart of Santa Rosa and a 40-acre campus in Petaluma. SRJC also operates a regional Public Safety Training Center in Windsor, a 365-acre self-supporting Shone Farm near Forestville, a Culinary Arts Center in downtown Santa Rosa, and a Technology Academy on the Petaluma Campus. Each semester classes are offered at more than 70 locations throughout the District by nearly 3,500 faculty and staff.
SRJC offers a strong General Education program for students planning to transfer to four-year colleges and universities, and more than 175 career skills certificate programs that prepare students for the workforce. SRJC's basic skills program prepares students for college level courses. The College grants both associate in arts (A.A.) and associate in science (A.S.) degrees.
In 2008, more than 36,000 students enrolled at SRJC each semester at all of its locations, with an annual headcount of over 53,000. The College attracts students from throughout the state and from more than 40 countries around the world.
In its 90-year history, Santa Rosa Junior College has had only five Presidents: Floyd P. Bailey (1921-1957), Randolph Newman (1957-1970), Roy Mikalson (1971-1990), Dr. Robert F. Agrella (1990-2012) and the current President, Dr. Frank Chong, who was hired in 2012.
Inclusion and Diversity College Hallmarks
Diversity and cultural awareness were barely a part of mainstream college dialogue at most colleges until the Civil Rights Movement of 1960s. In that climate of upheaval, students, faculty and administration at SRJC took action to show the community and the world that they, too, embraced the sweeping cultural changes. In the mid-1960s, as a part of what eventually became the Educational Opportunity Program and Services (EOPS), the College began actively recruiting minority students, offering ethnic studies and directly combating racism across the College.
SRJC demonstrates tolerance and acceptance of students, faculty, and staff from diverse backgrounds and experiences as reflected in its mission, values, college clubs, support services, social events, and everyday activities.
SRJC Foundation and Alumni Promote, Enhance, Inspire
SRJC's second President Dr. Randolph Newman established SRJC's nonprofit Foundation in 1969. The Santa Rosa Junior College Foundation was established as a 501(c)(3) nonprofit organization to provide private support for students, instruction, and the future of SRJC. Today the SRJC Foundation awards more than 600 scholarships annually; more than $3 million in SRJC Foundation scholarships have been awarded in the last four decades. The Foundation encourages gifts to enhance college programs and to support faculty and facility growth, such as the construction of the William B. Race Health Sciences Building.
The SRJC Foundation raised more than $1 million for the Warren G. Dutton, Jr., Agriculture Pavilion to equip and assist with start-up funding for facility, and over $1 million for the Frank P. Doyle Library Endowment. The Santa Rosa Junior College Foundation assists individuals who wish to advance the work of SRJC through private gifts. The staff and Foundation Board provide assistance with making a one-time gift, establishing an endowment, or planned giving.
The SRJC Foundation works with the college's Alumni and Friends Association. You don't have to be a SRJC graduate to join the Alumni & Friends Association, since membership is open to anyone interested in supporting the activities, events, and goals that help the College maintain its excellent reputation as an exemplary institution of higher learning. The Alumni and Friends Association presents several awards annually, including the Floyd P. Bailey Award, Randolph Newman Scholarship Award, Roy G. Mikalson Scholarship Award, and the Outstanding Faculty Recognition Award.
Sworn Officers, Cadets Serve SRJC District
Serving a student population of more than 36,000 students a semester at dozens of sites, Santa Rosa Junior College's District Police's staff includes 13 sworn officers, six police dispatchers, six unsworn community services officers, and numerous cadets. District Police Officers are empowered with full peace officer status, making felony and misdemeanor arrests, investigating crimes, and enforcing traffic laws. The District Police Department also oversees parking compliance. The department is housed at Pedroncelli Center located at the intersection of Elliott Avenue and Armory Drive in Santa Rosa.