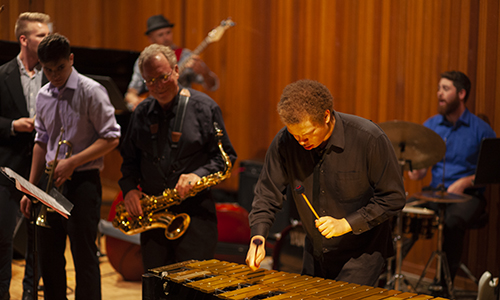 November 21, Santa Rosa, CA - The Santa Rosa Junior College (SRJC) Jazz Combos, directed by Bennett Friedman, will give their fall concert on Wednesday, Dec. 4 at 7:30 p.m. in Newman Auditorium on the Santa Rosa campus. Three-time Grammy award winner Paul McCandless will perform with the combos as a guest artist. Tickets will be available at the door only. Admission is $10. Parking on the SRJC campus is $4. Concert proceeds benefit the SRJC Foundation Jazz Studies fund.
The concert will feature original arrangements of works by jazz greats such as Pat Metheny, Stanley Turrentine, and John Lewis, and will also include a new piece by Bennett Friedman.
Paul McCandless
Internationally acclaimed multi-instrumentalist Paul McCandless has earned three Grammy awards: Best Pop Instrumental as a guest artist with Bela Fleck and the Flecktones, and two with the Paul Winter Consort for Best New Age Album. He has also received nominations for Best Jazz Instrumental Solo on Oregon's "1000 Kilometers," and Best Instrumental Composition and Best Instrumental Arrangement for his composition "Round Robin" on "Oregon in Moscow".
For further information, please call 527-4249.