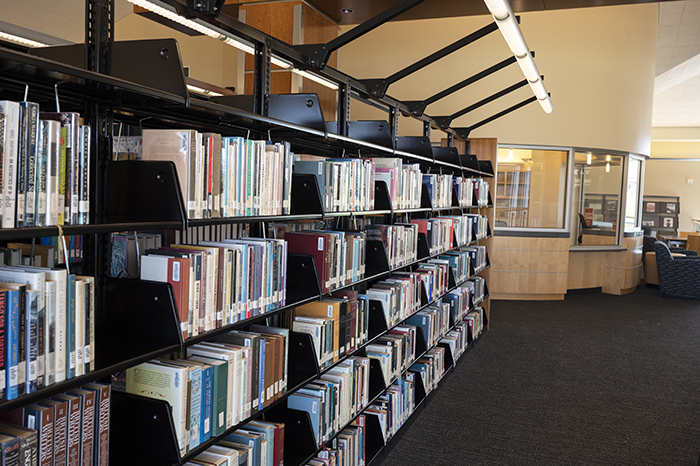 Santa Rosa, December 16, 2021—SRJC Libraries is pleased to announce that our buildings, Frank P. Doyle Library in Santa Rosa and Herold Mahoney Library in Petaluma, will be open for in-person use starting January 19, 2022. Both libraries will offer limited in-person hours for SRJC students, staff, and faculty who have been cleared to be on campus.
Limited In-Person Hours:
     Doyle Library: Monday—Thursday, 10:00 AM to 6:00 PM 
     Mahoney Library: Monday—Thursday, 9:00 AM to 2:00 PM
SRJC Libraries offers students a variety of study spaces, including study rooms and open areas, technology-infused study rooms, presentation practice spaces, and digital media suites. In-person resources include new computer workstations, printing and copying, and access to our print book collections. Librarians will be available in person for drop-in research help and appointments. Students will receive in-person service at our Circulation and Tech Gear desks to borrow library materials, including books, textbooks, laptops, hotspots, calculators, headphones, and other technology equipment.
"Our entire team is thrilled to safely welcome SRJC students back inside SRJC Libraries," said Dr. Mary-Catherine Oxford, Dean of Library Resources and Educational Technology, "and reconnect them with the resources and spaces that support their academic goals."
SRJC Libraries will continue its online presence to support our students, faculty, and staff. Online Chat Research Help will be available 6 days a week, including evenings and Saturdays, and librarians will offer workshops and research appointments via Zoom. Curbside service for library materials will also continue to be available by appointment.
Online Chat Hours 
     Monday-Thursday: 8:00 AM to 10:00 PM 
     Friday: 9:00 AM to 5:00 PM
     Saturday: 9:00 AM to 3:00 PM  
All SRJC sites follow the District's Covid-19 safety protocols. Please review the libraries' Reopening FAQ for more information.