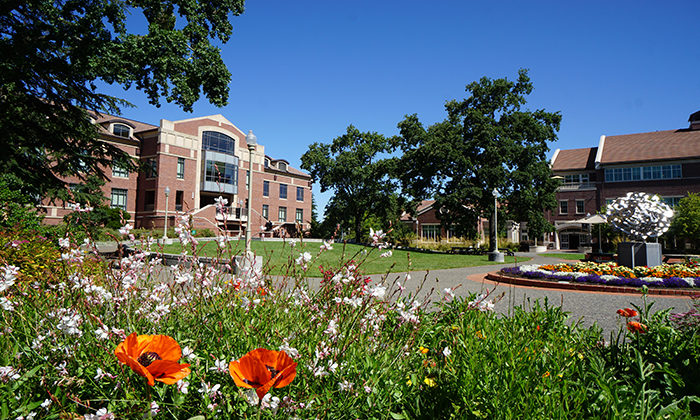 March 5, 2020, Santa Rosa, CA – The Association of College and Research Libraries (ACRL) has awarded Santa Rosa Junior College Libraries (SRJC) its 2020 Excellence in Academic Libraries Award. ACRL President-elect Jon E. Cawthorne, will visit SRJC to present the award in the Doyle Library Reading Room, on April 2, 3:00 – 4:30 p.m. Light refreshments will be served.

According to the American Library Association website, the ACRL Excellence in Academic Libraries Award was created to recognize librarians and staff who work together as a team to develop academic libraries that are outstanding in furthering the educational missions of their institutions. This recognition is awarded to a community college, a college and a university annually. Each library receives $3,000 and a plaque at a special awards ceremony. SRJC's libraries won the award in the community college category because of their dedication to the college community.

"Santa Rosa Junior College libraries presented a compelling story of learning services and programs that serve the faculty, staff, and students of their institution," said Cheryl A. Middleton, Excellence in Academic Libraries Award committee chair. "The libraries have redesigned their spaces and services based on extensive student input, which has received an overwhelmingly positive response from students."
 
Examples of these spaces and services include but are not limited to:
A reference desk repurposed into a Research Hub, where students are able to complete assignments from start to finish with peer-to-peer learning and guided practice.

Services and programs that decrease the 'equity in access' gap, such as a unique relationship between ESL faculty and librarians.

Collaborative work between the libraries and student affairs, which has provided textbooks and long-term technology checkouts for students at its Tech Gear Desk.

The emergency rapid response team the libraries joined to provide support for the campus during the 2017 Tubbs fire, which devastated the SRJC community. While the campus was closed and classes were canceled, the library remained open as a welcoming space for students providing food, shelter, emotional support, and computer and internet access. They hosted open counseling sessions, offered therapy dogs, and created listening boards to help students express their feelings and articulate their needs. The handwritten responses from these boards have been placed in a time capsule created by students to acknowledge SRJC's 100th anniversary.


 
"Students tell us they would like to live at the library because we have designed it around their needs," notes SRJC's award application.
 
Phyllis Usina, library dean at SRJC, said that the entire team is excited and proud to win the award. "The SRJC libraries team is truly exceptional in their focused mission to foster academic excellence and success for students. It is a great honor that their dedication to student learning and innovative programming has received this national recognition," she said. "It's like winning an Oscar for the libraries."
 
More information on the SRJC libraries can be found at https://libraries.santarosa.edu/.