Official SRJC Logos
There are two versions of our logo, the Primary Logo (stacked) and the Secondary Logo (horizontal). Either version is acceptable. The space requirements of a project will determine the appropriate version.
The  Primary Logo works best when it can be centered and floated with a generous amount of margin space, such as on the cover of a formal communication. 
The Secondary Logo works well in tight horizontal spaces, such as in online banners and other projects with limited depth.
The logo includes the words Santa Rosa Junior College and the oak leaf cluster. The colors of the logo are Pantone Matching System (PMS) 187 RED and 282 Blue.
Primary Logo (Stacked)

Secondary Logo (Linear)

Official Icon (Oak Cluster)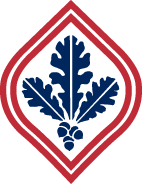 AREA OF ISOLATION:  The legibility and distinction of the SRJC logo is important. To be sure that the Logo is highly visible, always separate it from its surroundings.  A half inch area of isolation, or clear space, surrounding the logo should be maintained. No other graphic elements should penetrate this area of isolation.

LEGIBILITY AND MINIMUM SIZE: SRJC logos must remain legible. That means you should never use a logo that is smaller than the minimum size. Students and others often see our logos on their phones, so what looks perfect on a large desktop monitor may not work on a phone. 
These minimum sizes apply to all SRJC logos, more matter how they are used (print or digital).  
The minimum size requirements are different for the full-color logo and the spot-color logo. The spot-color logo contains less detail, so the minimum size is slightly smaller than the full-color logo. If you have any questions, contact the Public Relations department. 

FULL-COLOR LOGO USE:  The logo shown is the primary full-color logo. Always use the full-color version of the logo unless printing requirements do now allow you to use full color.  Use the full-color logo only on a white background or approved color, see tints.