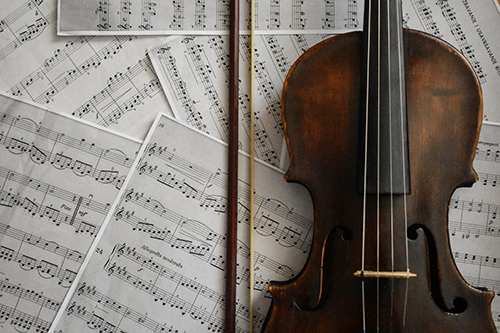 Oct. 15, 2020, Santa Rosa, CA – Santa Rosa Junior College's (SRJC) Music department will hold virtual concerts and recitals during the fall 2020 semester. All performances will be streamed at concert time on YouTube Premieres. Admission to these performances is free, however donations made to the department through GoFundMe are appreciated. Links to the streaming platforms and to the GoFundMe pages will be available and posted on the department's new web page one week before the events.

Choral Concert: "Oktoberfest"
The series begins with "Oktoberfest." SRJC's Vocal Music Majors will join the Concert Choir and Chamber Singers under the direction of conductor Jody Benecke, on Friday, October 30, at 7:30 p.m. They will perform German classic, folk and popular songs in pre-recorded sequences edited by accompanist and production engineer, Nancy Hayashibara. Enjoy a beer (at home) and a chance to win a Bavarian cuckoo clock, an antique Bierstein, or an authentic child's Dirndl outfit.
 
Applied Music Recital
Next up is the SRJC Music Department Recital on Friday, November 13 at 12:30pm, directed and produced by Dr. Mark Anderman with Nancy Hayashibara, accompanist. This formal recital will feature outstanding student vocalists and instrumentalists performing in a variety of musical styles.
 
SRJC Symphonic Band, Chamber Groups & String Quartet:  "Bright Lights & Starry Nights"
On Saturday November 14 at 7:30 pm, Director Jerome Flegg will present "Bright Lights & Starry Nights", featuring Symphonic Band, String Quartet and Chamber groups. In this concert, the SRJC Band and Strings present an evening of shining stars in the musical world.  Hear the beauty of Mozart, the power of Holst, and the sensitivity of chamber music.  Connect with SRJC musicians with music sure to leave you glowing!
 
Performance for Diction & Repertoire class (German):  Operetta/"Kabarett"
On Thursday, December 10 at 5:00 p.m, students of Jody Benecke, Director, present German Lieder, Operetta & "Kabarett" favorites featuring works by Mozart, Strauss, and Weill.
 
Music Department Concert:  "Music Across the Distance"
On Friday December 11, 7:30 p.m., "Music Across the Distance" will feature SRJC Choir, Band and Strings, for an evening of beautiful vocal and instrumental music that will transport you as you connect with SRJC Musicians in a new way. Jody Benecke (Choir), Jerome Fleg (Band/Orchestra) & Nancy Hayashibara (Production Editor) will direct this show.
 
Additional details can be found at https://music.santarosa.edu/events.