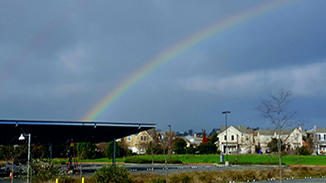 February 2, 2018 - On Tuesday, February 13, the Santa Rosa Junior College (SRJC) Board of Trustees will ceremoniously flip the "on" switch to power the newly installed 1.3 megawatt high-efficiency SunPower® Helix Carport system on the Petaluma campus. This is the first of many sustainability projects for SRJC funded by the Measure H bond.
The event, to be held at the new solar power installation in Parking Lot #4 of the SRJC Petaluma campus, on the east side of the Richard W. Call Classroom and Administration Building 600 at 680 Sonoma Mountain Parkway, will begin at 2:00 p.m., featuring remarks by SRJC President Dr. Frank Chong and Board of Trustees President Maggie Fishman.
In addition to the Petaluma photovoltaic installation, there are plans this summer to install a carport system over the George Bech Hall and Emeritus Hall parking lots and a garage-top carport system on the Don Zumwalt Parking Pavilion, on the Santa Rosa campus. With these new systems and the 77-kilowatt SunPower system that has been operating on top of Frank P. Doyle Library since 2007, SRJC expects to see significant energy and financial savings. "We believe strongly in sustainability, one of the core values described in SRJC's strategic plan," said Chong. "The new system, combining solar energy and battery storage, will cut our energy costs even further, which benefits the college, as well as Sonoma County taxpayers."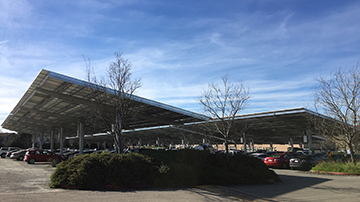 SRJC Petaluma Vice President Dr. Jane Saldaña-Talley added, "We are pleased to participate in the College's energy savings initiative, and could not be more proud of the advocacy and contribution by our faculty, staff and students towards a sustainable future.  We look forward to 'throwing the switch' for energy savings, and appreciate the leadership of our local Board representative, Maggie Fishman, and other members of the Governing Board in their support of these important programs."
RSVPs should be directed to Susan Brouwer at sbrouwer@santarosa.edu or (707) 524-1705. In case of inclement weather, the ceremony will be held inside the Richard W. Call Classroom and Administration Building 600.