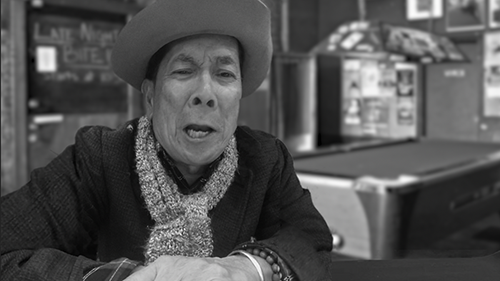 November 9, 2020, Santa Rosa, CA –Santa Rosa Junior College (SRJC) President, Dr. Frank Chong, is making his SRJC stage debut in the Theatre Arts department's fall musical, "It's a Wonderful Life."  Adaptor and lyricist John Shillington will direct the online, musical interpretation inspired by Frank Capra's 1946 film. This show features an original score by the award-winning local artist Janis Dunson Wilson. "It's a Wonderful Life," streams live on YouTube Live, November 27, 28, December 4 and 5 at 7:30 p.m.
 
Despite years of hard work and self-sacrifice, George Bailey faces financial ruin. He contemplates suicide, wishing he had never been born. Clarence, guardian angel in training, overhears George's cry from a snowy bridge, grants the wish, and shows George the consequences of life without him.
 
Dr. Chong will be playing the role of Mr. Gower, town pharmacist, and George Bailey's first employer in this holiday favorite. Gower is one of the community members whose life is better because of George's kind presence. When Shillington learned Dr. Chong was open to the possibility of being in a play, he jumped at the chance to cast him.
 
"The students, cast and crew were thrilled when Frank showed up in rehearsal on Zoom," said Shillington. "He plays Mr. Gower when he's down on his luck. From the first day, Frank brought both a lightness and pathos to the role.  I told him he might want to quit his day job and stick with this acting gig."
 
"While I've been in the audience for many SRJC Theatre productions, this is my first time in the cast," said Dr. Chong. "It is great to see behind the curtain and to learn from the faculty, staff and most of all, our student performers. Their talent and commitment are inspiring!"
 
Dr. Chong has joined the company as Shillington leads them into new territory, musical theatre on Zoom. Musical numbers will be prerecorded, and acted scenes will be performed live, with each cast and crew member working from their individual homes.
 
Tickets for online performances will be sold as online donations at https://theatrearts.santarosa.edu.
Patrons will receive an email with the Online Performance Access Code and Instructions on the day of the show. Due to Covid-19 restrictions, the SRJC campus is closed through spring 2021. The Box Office Manager is available during Box Office Hours: Wednesday through Friday, 12:00 p.m. to 4:00 p.m. (707) 527-4307. Available by email one hour before curtain to field log-on questions. SRJCBoxOffice@santarosa.edu.
 
Production backgrounds are by scenic designer Peter Crompton. Costume design is by student Kira Catanzaro, and hair and makeup designs are by student Britt Kruljac. Digital direction is by Emily Hansen.
Dr. Frank Chong as Mr. Gower. Photo by Thomas Chown. Photos available upon request.