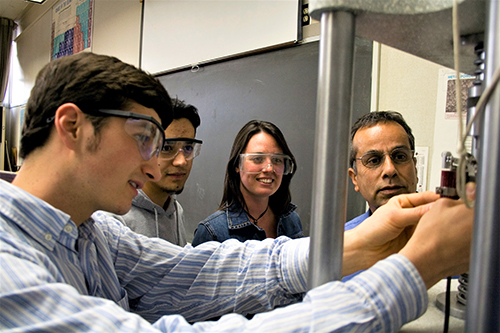 October 2, 2019, Santa Rosa, CA—Santa Rosa Junior College (SRJC) has been awarded the 2019 Education Lifetime Champion of the Year award for excellence in engineering education by the American Council of Engineering Companies (ACEC) of California. The award will be presented at the ninth Annual Engineering Excellence Celebration on Thursday, October 17 at 5:00 p.m. at the historic De Turk Round Barn building in Santa Rosa. 
This event publicly recognizes members and community leaders who support infrastructure and contribute to the built environment. Keynote speakers will include California State Assemblymember Marc Levine and Sonoma County Supervisor David Rabbitt.
SRJC Dean of Science, Technology, Engineering and Math, Victor Tam, said that he is thrilled to receive this award. "I'm very proud of the faculty and staff, both current and past, who have helped educate generations of engineering and surveying students, many of whom have literally helped build and change Sonoma County and the world," he said.
Mousa Abbasi, who chaired the selection committee for ACEC, said that SRJC was selected for this award in recognition of its role in educating the engineering workforce, particularly in the fields of science and engineering, including civil engineering and land surveying.
Engineering and Applied Technology instructor-CESGT program coordinator Reg Parks said, "This is truly an honor. In 1923, SRJC graduated 12 engineering students to UC Berkeley. Since then, SRJC Engineering and Applied Technology programs have provided regional industry and transfer institutions with outstanding graduates. Innovative SRJC instructors like Sally Heath, Harold Walker, and Jerry Miller were cornerstone contributors to the ongoing success of our programs and our students. They set the high bar for those of us who followed." 
The event is free to attend and will include a wine and soft drink reception with hors d'oeuvres, and an exhibit featuring projects submitted for award consideration. The awards program begins at 6:00 p.m. Each award recipient will receive a recognition plaque and certificates of recognition from the region's state and federal legislators.
More information on the event is available at https://event.pingg.com/ACEC2019Award
The following Achievement Awards will be distributed at the event:
2019 Education Lifetime Champion of the Year: Santa Rosa Junior College- SRJC.
2019 Infrastructure Elected Official Champion of the Year: Supervisor Lynda Hopkins, County of Sonoma.
2019 Infrastructure Public Owner Champion of the Year: City of Santa Rosa Water Department.
2019 Quality Based Selection (QBS) Champion of the Year: City of Rohnert Park.
2019 Project of the Year: BKF Engineers, Russian River Brewery- Windsor.
2019 Development Project of the Year: Adobe Associates, Sebastopol Charter School.
2019 Geotechnical Project of the Year: Bauer Associates, Geotechnical Investigations of Bennett Ridge, Hidden Valley & Larkfield Estates Neighborhoods.
2019 Structural Project of the Year: Summit Engineering, Miracle League Entry Structure.
2019 Bridges Project of the Year: Ost Engineering, CrossWinds Church Vehicular/Pedestrian Bridges.
2019 Transportation Project of the Year: GHD, AC Transit Line 97 TPI.
2019 Member of the Year: David Long, Brelje & Race.
2019 Exceptional Engineer Emeritus: Greg Swaffar, Summit Engineering.
2019 Future Leader of the Year: Jessica Chavez (former SRJC engineering transfer student), BC Engineering Group.
ACEC California is a more than 50-year-old, nonprofit association of private consulting engineering and land surveying firms. This statewide organization is dedicated to enhancing the consulting engineering and land surveying professions, protecting the general public and promoting use of the private sector in the growth and development of our state. Members provide services for all phases of planning, designing and constructing projects. Member services include civil, structural, geotechnical, electrical and mechanical engineering, and land surveying for all types of public works, residential, commercial and industrial projects.