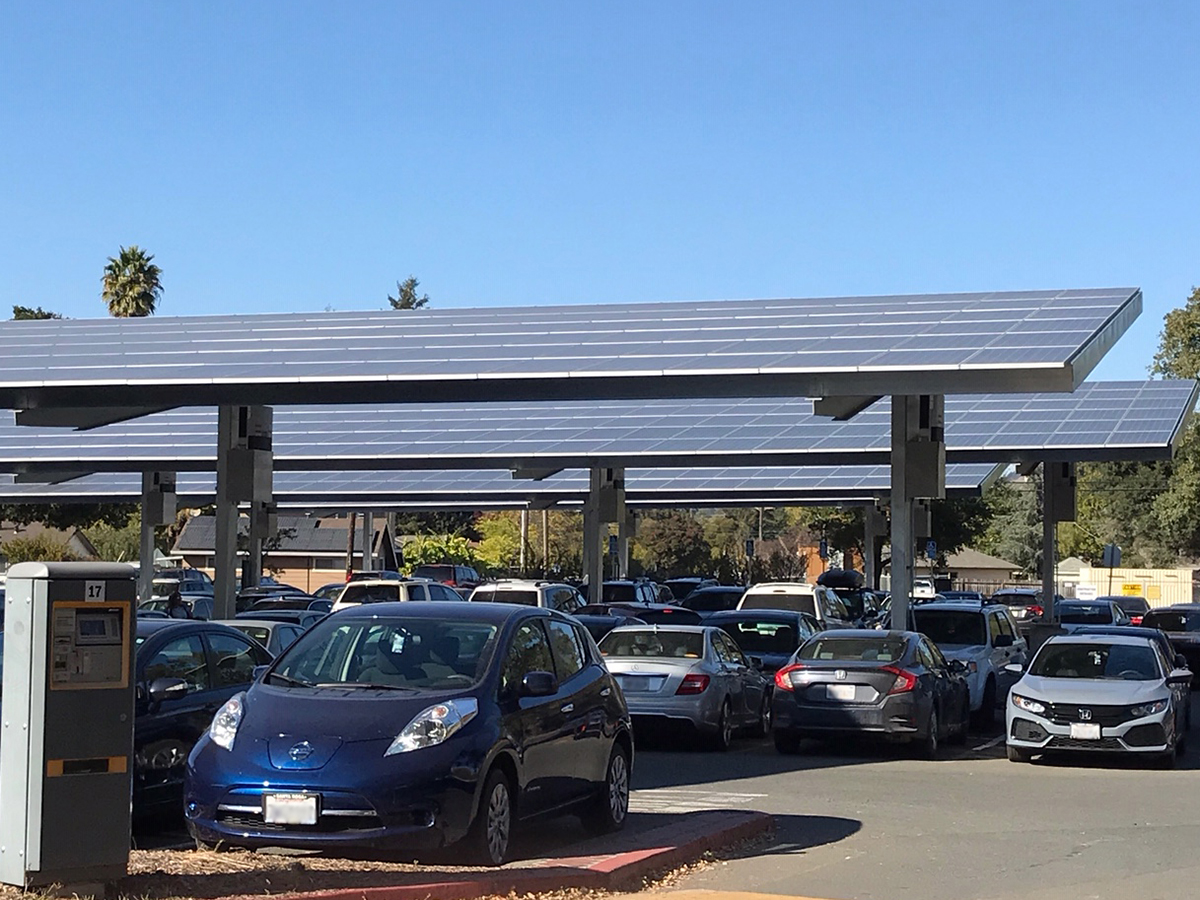 August 22, 2019, Santa Rosa, CA – Santa Rosa Junior College (SRJC) received three awards for its progressive sustainability efforts at the annual California Higher Education Sustainability Conference (CHESC) in July 2019. These awards recognize the college's efforts to reduce energy demands, leverage renewable energy and improve the efficiency of its on-site water usage.  
Since the implementation of the Measure H bond, passed by Sonoma County voters in 2014, SRJC has spent over $32 million on sustainability improvements, including those recognized by these awards, which include:
An Energy Demand award recognizing SRJC's "Zero Net Energy, Electrification, to Microgrid Design" project, which aims to make the college's energy usage equivalent to that which is created through on-site renewable energy by 2030. The college is doing so on its Santa Rosa campus by moving towards entirely electric buildings integrated with a 100% renewable microgrid.
This project has been made possible in part by the California Energy Commission (CEC) Grant, which funds the creation of battery storage designed to collect the energy created by the solar canopies on campus. This combination of solar power and battery storage will allow the school's essential buildings to operate independently of the local energy grid in case of emergency and can help restore power after an event, increasing community resiliency and promoting clean energy.
 
An award for water efficiency and quality, recognizing SRJC's "Living Learning Landscape." This project included the creation of sustainable garden templates that meet Model Water Efficient Landscape Ordinance (MWELO) standards and was done in collaboration with the Sonoma County Water Agency, the City of Santa Rosa, the UC Master Gardener Program of Sonoma County, the California Native Plant Society – Milo Baker Chapter, and the Habitat Corridor Project. Examples of these templates are being installed on the Santa Rosa campus as public demonstrations. The templates are free to download at www.livinglearninglandscapes.com.

 
An award recognizing Manager, Sustainability and Energy Programs David Liebman as a Sustainability Champion in the California Community College category, which is the most distinguished and only individual award at the conference. Liebman leads the college's sustainability efforts including a range of innovative building energy and retrofit projects, capital planning, greening infrastructure and building a culture of sustainability on campus.
 
"These awards are an acknowledgment of the hard work of the many students, staff, and faculty who dedicated themselves to creating a strong culture of sustainability at SRJC," Liebman said. "We hope to showcase the amazing work being done at SRJC with respect to sustainability to our larger community to help create the ripples for a sustainable and resilient future."
In addition to the CHESC awards, SRJC was also acknowledged as the first California Community College to achieve the Sustainability Tracking, Assessment & Rating System™ (STARS) recognition for its efforts and completion of this internationally recognized framework. SRJC received a bronze designation for its submission, which can be viewed here: https://reports.aashe.org/institutions/santa-rosa-junior-college-ca/report/2019-02-28/
More information on SRJC's sustainability efforts can be found at sustainability.santarosa.edu.