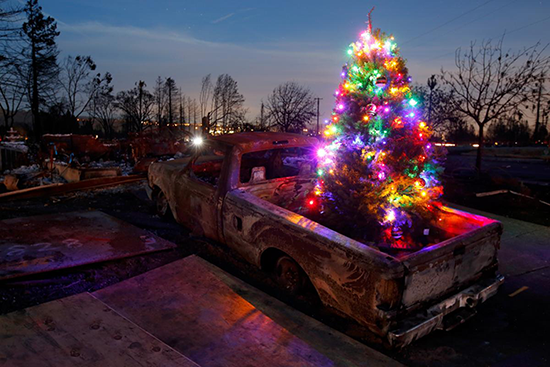 October 9, 2018, Santa Rosa, CA – The Santa Rosa Junior College (SRJC) Art Department presents "Rising from the Ashes Sonoma County 2017," on view from Oct. 8 to Dec. 21 at the Robert F. Agrella Gallery on the Santa Rosa campus. The exhibit showcases photographs from the Press Democrat's Pulitzer Prize-winning coverage of the 2017 Sonoma County fires.
The exhibit features photographs of the destruction of the fires, the aftermath, first responders, and the community support for the victims. Photographers from the Press Democrat, risking their personal safety, provided critical coverage by documenting the fast-paced series of occurrences surrounding the wildfires.
The exhibit runs during the first anniversary of the Sonoma County wildfires and honors the brave work of the Press Democrat staff, the first responders and the selfless help of volunteers and neighbors alike.  
Exhibit: Oct.8-Dec. 21, 2018
Opening Reception: Thursday, Oct. 18, 2018
Gallery Hours: Monday – Thursday, 10:00 a.m.-2:30 p.m.
Please note: The photographs contain images of the fire and may be triggering.
# # #