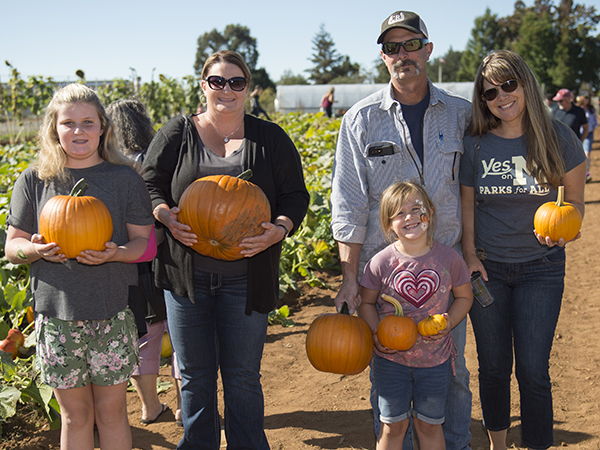 September 16, 2019, Forestville, CA —Santa Rosa Junior College's (SRJC) Shone Farm will hold its annual Fall Festival on Saturday, Oct. 12 from 10:00 a.m. to 3:00 p.m. The farm is located at 7450 Steve Olson Lane.
Shone Farm welcomes the community to experience the garden during harvest season. SRJC's Agriculture and Natural Resources Department students and instructors will facilitate activities and present an abundance of food. This event includes free admission and parking. No dogs, except assistance dogs, are permitted.
A farm stand will highlight Shone Farm produce, wine and olive oil. Bulk oil will be available for purchase, so bring your own bottle. Enjoy lunch featuring Shone grown ingredients, wood-fired pizzas made by the SRJC Culinary Café, tacos and burritos from Lola's Market and chili from Food for Thought.
Farm activities include:
children's activities
hay bale rides
pumpkin, apple, tomato, and strawberry picking
apple pressing
rotten fruit slingshots
composting lessons
SRJC student employee, Makenzie Cummings, is excited about working the strawberry patch again this year.
"It was amazing to see children picking strawberries for the first time, and eating them right off the plant," Cummings said.
For more than four decades, Shone Farm has been a field laboratory and teaching resource for SRJC's Agriculture and Natural Resources students. They benefit from direct, hands-on experience as they learn about natural resource management and conservation, sustainable agriculture, winemaking, viticulture, and animal health and livestock management. In this case, students in both the direct farm marketing and wine studies classes will get hands-on experience planning and working an event.
More information about the Fall Festival is available at shonefarm.santarosa.edu/farm-program-updates and at https://www.facebook.com/SRJCShoneFarm.