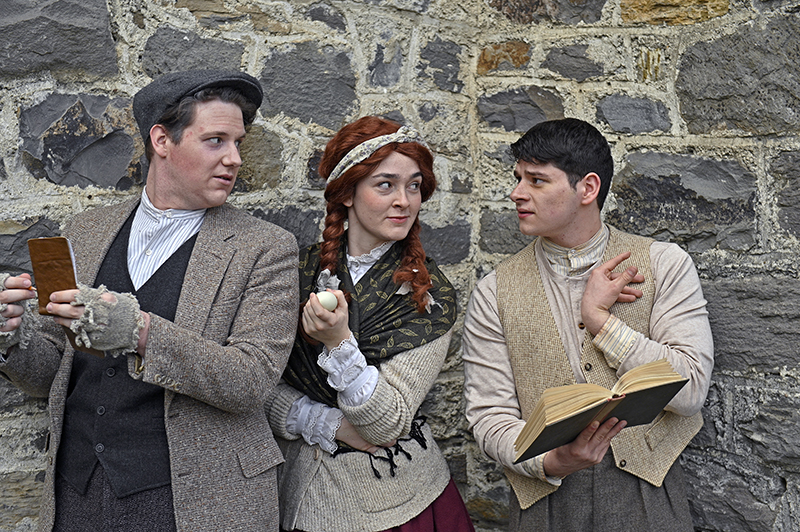 February 4, 2020, Santa Rosa, CA—The Santa Rosa Junior College (SRJC) Theatre Arts department will debut its first production, "The Cripple of Inishmaan," on March 6 at 8:00 p.m in the new Studio Theatre built as part of the Burbank Auditorium renovation. There will also be a free reception for the public in Burbank Auditorium's lobby to celebrate the grand opening on Friday, March 6 from 7:00 until 7:45 p.m, prior to the debut performance. Tickets are required for the performance. The play will run on select dates in March.
 
"The Cripple of Inishmaan" is a comic satire set on an island in Ireland's Galloway Bay. Playwright Martin McDonagh is known for his dark humor and is the screenwriter/director of Academy Award-winning "Three Billboards Outside Ebbing, Missouri."
 
Billy Claven is a young man, without parents, who has a disability. He has the added hardship of living on Inishmaan, one of Ireland's Aran Islands. It is a place where lives are endured more than lived, and where Billy is a distraction from monotony and therefore a frequent target of his community. In 1934 Billy attempts to escape his boring, tragic and impoverished life when a Hollywood film crew arrives on a neighboring island to make a documentary.
 
Student actor Daniel Dow plays the title role. He was raised in Santa Rosa, attended Maria Carrillo High School, and was recently seen playing Peter in SRJC's production of "The Good Doctor." "I love the way the play flows," he said. "It hits the heart and rings true in totally unexpected ways."
 
"I'm thrilled to be working on this wonderfully funny and heart-wrenching play, to be able to explore the art of empathy and the relationship between rollicking laughter and unending sorrow," said SRJC student Ally Bray, who plays Billy's adopted aunt, Eileen Osbourne. She calls it, "A very Irish play."
 
"The Cripple of Inishmaan" is directed by Leslie McCauley.
Due to adult content and strong language, the M-rated show is recommended for ages 16 and up. A $4 parking permit is required.
Showtimes are:
March 6, 7, 11, 12, 13, 14 at 8:00 p.m.

March 8, 14, 15 at 2:00 p.m.
Tickets are available online at  https://theatrearts.santarosa.edu and at the Burbank Auditorium Box Office. Beginning Wednesday, Feb. 5, Box Office hours are Wednesday through Friday, noon to 4:00 p.m., and one hour before curtain. (707) 527-4307. Parking permits are $4 and are required.