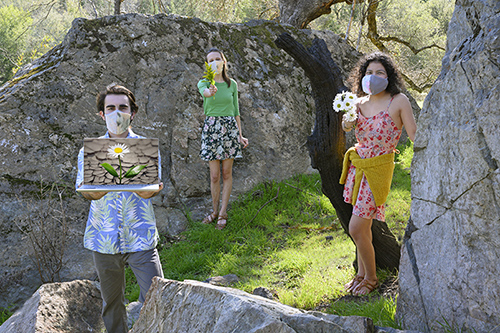 March 30, 2021 - Santa Rosa, CA  –  The Santa Rosa Junior College (SRJC) Theatre Arts department will close their spring season with the actor-created performance, overcome, which will be directed by Reed Martin and choreographed by Alyce Finwall, with vocal coaching by Tina Lloyd Meals.
 
This virtual, devised play comes from of the community's shared experience of feeling overcome, yet having the determination to overcome obstacles like fires, floods, and Covid-19. Combining acting, singing, dance, poetry and storytelling, the actors will give voice to our community's experience of the past few years.
 
Instructor Reed Martin, who has facilitated student work development at UC Berkeley, UC San Diego, Napa Valley College, and San Joaquin Delta College, guides the collaborative process.
 
"overcome is a devised show – meaning we went into rehearsals without a script," said Martin. "During rehearsals, the cast explored their personal experiences of tragedy and triumph, of devastation and joy. They developed stories, songs, scenes, poems, and dances based on challenges they have faced in their own lives. I hope audiences are as inspired by the courage of these writers/performers as I have been."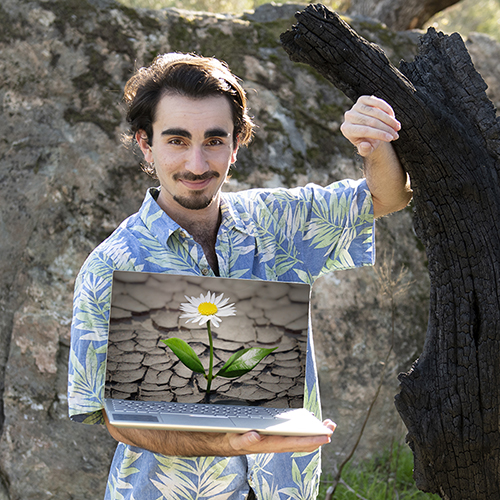 "My interest in this production comes from the opportunity to create something new and exciting," said SRJC Music and Theatre Arts student, Chris Shayota.
 
"I hope the process of creating this show as an ensemble will help me overcome my doubts about being an autistic performer in the world of theatre," said Rachel Calos who performed in 2018's, "How the Garcia Girls Lost Their Accents."
 
"My personal connection to this show's subject matter is that overcoming mental health obstacles is a big part of my story," said Sonoma Academy graduate Mondara Granados Carreiro.
 
"Creating a piece from scratch with an open group of people who are one-hundred percent invested in it is heaven," said Emma LeFever, an alumna returning to SRJC theatre between years at Pacific Conservatory of Performing Arts (PCPA.) She has written a children's book on Covid for the show. "I'm hoping this environment and type of process will help free my artistic impulses to let go."
 
The show runs April 23, 24, 30, and May 1, at 7:30 p.m. and May 2, at p.m.
Tickets for online performances will be sold as donations at https://theatrearts.santarosa.edu.
Due to Covid-19 restrictions, the SRJC campus is closed through spring 2021. The Box Office Manager is available at (707) 527-4307 during Box Office Hours: Wednesday through Friday, 12:00 p.m. to 4:00 p.m., and by email one hour before curtain to field log-on questions.
 

Pictured: Chris Shayota, Grace Mosier and Rachel Calos. Photos by Thomas Chown. More photos available upon request.
Disclaimer: This production contains potentially triggering content, including themes of eating disorders, self-harm and suicide, and may not be suitable for all audiences.