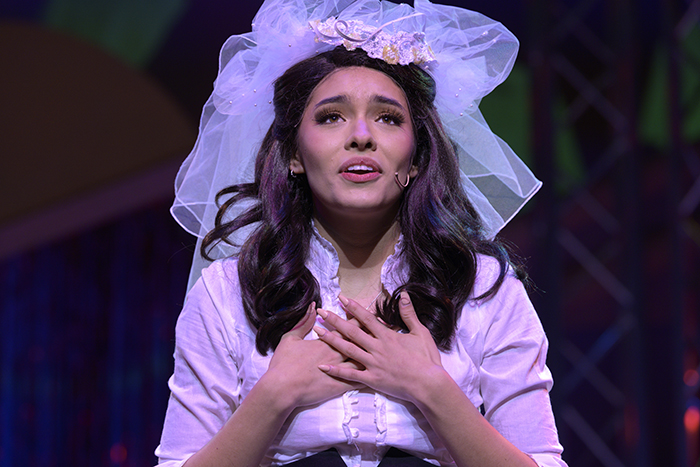 August 17, 2022, Santa Rosa, CA—the Santa Rosa Junior College (SRJC) Theatre Arts Department returns with another exciting 2022-23 Season.
STAND AND DELIVER
Based on a true story and an Academy-Award nominated film, Stand and Deliver celebrates Jaime Escalante, a math teacher at an East LA high school who transforms his students' lives with his unorthodox teaching methods. This production features SRJC Theatre Arts alumnus Danny Banales in the lead role, and is dedicated to Sonoma County's own 'Jaime Escalante', Maestro Roberto Ramirez.
Based on the screenplay by Ramon Menendez and Tom Musca. Adapted for the stage by Robert Bella. Directed by Elizabeth Dale. Assistant Director/Cultural Advisor: Anakarina Swanson.
Burbank Studio Theatre
Sept 30, Oct 1, 5, 6, 7, 8 at 7:30pm, 2022 
Oct 2, 8 and 9 at 2pm, 2022
 
THE SPONGEBOB MUSICAL
Adapted from the iconic Nickelodeon series! SpongeBob, Patrick, Sandy, Squidward and all of Bikini Bottom face total annihilation—until a most unexpected hero rises to take center stage. With its dazzling costumes, spectacular production numbers and cheeky humor, this delightful undersea musical is sure to appeal to all ages.
Based on the series by Stephen Hillenburg, book by Kyle Jarrow, musical production conceived by Tina Landau. Directed by Reed Martin. Music Direction by Nate Riebli. Choreography by Alyce Finwall. Vocal Direction by Mark Kratz.
Burbank Main Theatre
Nov 18, 19, 23, 25, 26, Dec 1, 2, 3 at 7:30pm 2022 
Nov 20, 26, 27, Dec 3, 4 at 2pm, 2022
 
GLORIA
This funny, whip-smart and powerfully surprising play follows an ambitious group of editorial assistants at a notorious Manhattan magazine, each of whom hopes for a book deal before they turn thirty. But when an ordinary humdrum workday becomes anything but, the stakes for who will get to tell their own story become higher than ever. By one of America's leading Queer Black playwrights and author of the critically-acclaimed,  An Octoroon.
By Branden Jacobs-Jenkins. Directed by Leslie McCauley
Burbank Studio Theatre
March 3, 4, 8, 9, 10, 11 at 7:30pm, 2023
March 5, 11, 12 at 2pm, 2023

THE ADDAMS FAMILY, A NEW MUSICAL COMEDY
Join Gomez, Morticia, Uncle Fester, Wednesday and Pugsley for this Goth-comic-retro-revival of the iconic TV show. It's every father's nightmare: daughter Wednesday Addams, the ultimate princess of darkness, falls in love with a sweet, smart, "normal" young man from a respectable family! Can Gomez Addams keep this disturbing secret from his beloved Morticia? Everything will change for the Addams family the night the boyfriend and his parents come to dinner.
Book by Marshall Brickman and Rick Elice; Music by Andrew Lippa; Lyrics by Andrew Lippa; Based on characters created by Charles Addams. Directed by Laura Downing Lee. Music Direction by Nate Riebli. Choreography by Alyce Finwall. Vocal Direction by Mark Kratz.
Burbank Main Theatre
April 21, 22, 27, 28, 29 May 4, 5, 6 at 7:30pm, 2023
April 23, 29, 30, May 6, 7 at 2pm, 2023
Tickets $20-$25
Online at theatrearts.santarosa.edu
By phone (707) 527-4307
By email SRJCBoxOffice@santarosa.edu
Questions: Leslie McCauley lmccauley@santarosa.edu.
 
STAND AND DELIVER is produced by Special Arrangement with The Dramatic Publishing Company of Woodstock, Illinois.
THE SPONGEBOB MUSICAL is presented by arrangement with Concord Theatricals.
GLORIA is presented by special arrangement with Dramatists Play Service, Inc., New York.
THE ADDAMS FAMILY, A NEW MUSICAL COMEDY is presented through special arrangement with, and all authorized performance materials are supplied by Theatrical Rights Worldwide, 11808 Avenue of the Americas, Suite 640, New York, NY 10036.