February 27, 2019, Santa Rosa— The Santa Rosa Junior College (SRJC) Theatre Arts Department presents "Jesus Christ Superstar," a musical by Andrew Lloyd Webber and lyrics by Tim Rice.  This first-ever rock opera was created as a concept album at the end of the turbulent '60s and has at its center a social and political rebel. Jesus's meteor-like rise in renown provides, as the title suggests, a parallel to contemporary celebrity worship. Christ's final days are dramatized with emotional intensity, thought-provoking edge, and explosive theatricality. Propelled by a stirring score, "Jesus Christ Superstar" illuminates the transcendent power of the human spirit with a passion that goes straight to the heart.
The show will feature award-winning guest artist Phillip Percy Williams in the role of Jesus. Phillip is an eleven year veteran of Beach Blanket Babylon, the world's longest-running musical review. "I feel so blessed to have an opportunity to perform my favorite role and show with this wonderful and talented cast," Williams said.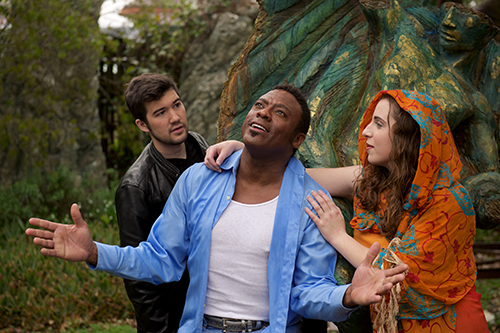 The cast includes Ariana LeMark in the role of Mary Magdalene. She attended Santa Rosa High School's Art Quest program. "The music is just magnificent, and Mary Magdalene is such a spectacular role, she's the bringer of peace in this production and I am absolutely delighted to have been cast," she said.
Noah Sternhill, who attended Maria Carrillo High School, plays Judas. "With playing Judas, I have the opportunity to upset the stigma surrounding the character while delving into his complexity and humanity," he said.
Other characters include Apostles Nate Mercier, Healdsburg High School grad, and Alex Jimenez, who attended Elsie Allen High School.
"What I love about this show (and my role in particular) is that there is no evil villain; every character acts out a perceived obligation to the greater good or to keep the peace," said Michael Arbitter, who plays Caiaphas.
The show, recommended for ages 12 and above, will run on select dates April 19-May 5 at Maria Carrillo High School's theatre at 6975 Montecito Boulevard, Santa Rosa 95409. Parking is free.
Showings include:
April 19, 20, 25, 26, 27, May 2, 3, 4 at 7:30 p.m.
April 21, 27, 28, May 4, 5 at 1:30 p.m.
Tickets will be available for purchase online at https://theatrearts.santarosa.edu/buy-tickets-online-0 and at the SRJC's Theatre Box Office at (707) 527-4307. Please note, the Box Office has once again moved, to the east side of Haehl Pavilion.

Directed by Leslie McCauley
Music Direction by Janis Dunson-Wilson
Choreography by Alyce Finwall
Vocal Direction by Joshua Bailey
Photos by Thomas Chown
(left to right) Noah Sternhill as Judas, Phillip Percy Williams as Jesus and Ariana LaMark as Mary.
"Jesus Christ Superstar" is presented by arrangement with The Musical Company, LP, 214 Sullivan Street, Ste. 4, New York, NY, 10012-1354. www.themusicalcompany.com