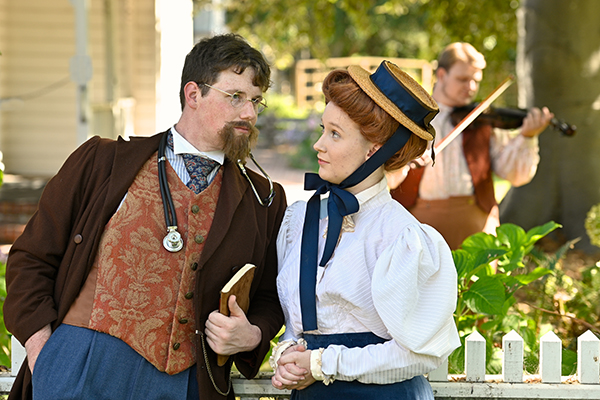 September 18, 2019, Santa Rosa, CA - The Santa Rosa Junior College (SRJC) Theatre Arts Department presents "The Good Doctor," Neil Simon's comedic dramatization of a series of short stories written by Anton Chekov. The play will run in Newman Auditorium in Emeritus Hall on the Santa Rosa campus on select dates in October.
The play combines the talents of two theatre legends, including Pulitzer Prize-winning playwright, Neil Simon, and Russian writer and playwright Anton Chekhov, creating the promise of a timeless theatrical experience. The satirical story follows a blocked writer (Chekov imaginably) who shares his frustration through a series of human condition stories, including tales of dental phobia, financial anxiety and chasing dreams.
SRJC student Haley Hollis, who plays the part of The Defenseless Creature, said, "This show is easy to have a personal connection to because of the depth of the characters. It is full of laughs, as well as a few tears."
Student actor Riley Craig will represent Chekhov in the role of The Writer and also played Herod in SRJC's performance of "Jesus Christ Superstar." "I was inspired by the multitude of hilarious characters and how contemporary they are," he said.
The show, directed by Wendy Wisely, will include live Russian music, performed by violin and mandolin musician Gus Garelick and choreography by Cory Antipa.
Due to adult content, the show is recommended for ages 13 and up. A $4 parking permit is required.
Showtimes are:
October 4, 5, 9, 10, 11, 12 at 8:00 p.m.
October 6, 12, 13 at 2:00 p.m.
Tickets are available online at https://theatrearts.santarosa.edu/buy-tickets-online,  and at SRJC's Theatre Box Office, (707) 527-4307. Please note, the Box Office is temporarily located to the east side of Haehl Pavilion.
Directed by Wendy Wisely
Music performed by Gus Garelick
Choreography by Cory Antipa
Riley Craig as The Writer, Lorelei Voegels as The Wife and Declan Hackett as The Husband
Photo credit: Tom Chown
THE GOOD DOCTOR is presented by special arrangement with SAMUEL FRENCH, INC.