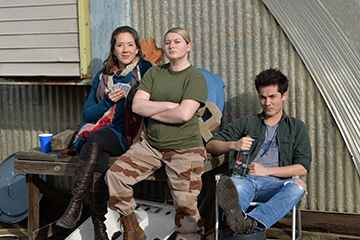 February 2, 2018 – The Santa Rosa Junior College (SRJC) Theatre department presents "Welcome Home, Jenny Sutter," a play that includes unique characters and often funny dialogue, featuring a mother who is also a soldier healing from the trauma of war. The play runs March 9 through 18 in Randolph Newman Auditorium in Emeritus Hall on Elliott Ave., SRJC Santa Rosa campus. Complete details are available at https://theatrearts.santarosa.edu/current-season and below.
When U.S. Marine Jenny Sutter returns from Iraq, she lays down her rifle but isn't ready to pick up her children again. Buying some time, Jenny takes a one-way trip to a misfit desert community called Slab City, where its quirky residents gently nurture her wounded spirit and nudge her back to her own humanity. With its unique characters and often funny dialogue, "Jenny Sutter" is a play that will linger long after the lights come up. This event is produced in association with SRJC Women's History Month.
The "Jenny Sutter" story was written by Marie Myatt, and this production is directed by Wendy Wisely.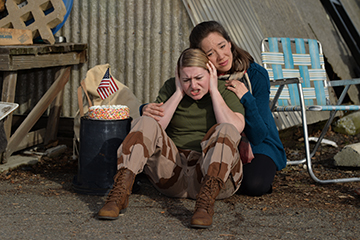 The show features two full casts that alternate performances.
Jenny Sutter:  Allison Paine and Jenna Rechsteiner
Lou:  Jisaela Tenney and Maureen O'Neill
Buddy:  Michael Arbitter and Geoffrey Nixon
Donald:  Alex Jimenez and Dylan Kupper
Hugo:  Griffin Tatum and Ryan Sayler
Cheryl:  Allyson Bray and Kaellie Clein-Cunningham
Jenna Rechsteiner and Allison Paine share the role of Jenny Sutter. Rechsteiner, who grew up in Petaluma, said, "The characters in this show are a dream for a character actor like myself." Paine said, "The script is incredible and I am inspired by the character of Jenny Sutter. I feel a responsibility to research and interview veterans in order to show respect for our Marines and approach the role from a place of honest compassion."
Maureen O'Neill and Jisaela Tenney share the role of Lou. Tenney attended Santa Rosa High School and said, "I am intrigued by Lou, her struggle with multiple addictions, and the amount of love she has to give despite all of her struggles." O'Neill said, "My stepdad was a veteran and he struggled with addiction his whole life. He died in his 40s. He never talked about his experiences with me but I heard later he was a sniper. I can't imagine what it would be like to try to go back to normal life after something like that. As a society, there is so much more we could do to help with that transition. My character, Lou, who befriends Jenny after Jenny's return from Iraq, knows she (Lou) is an addict and has given up everything from cigarettes to fruit roll-ups.  I have a long history with 12-step programs so I can relate. If I do my job well, the audience can see Lou in themselves and have compassion for themselves. That's where the healing begins. Lou says she is searching for something big and wonderful to believe in. Aren't we all searching for that?"
Kaellie Clein-Cunningham and Allyson Bray share the role of Cheryl. Clein-Cunningham is an Air Force Veteran and has friends who live in Slab City. Bray attended El Molino High School.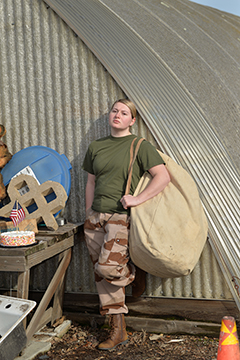 Dylan Kupper and Alex Jimenez share the role of Donald. Kupper said, "My grandfather is a vet of the Vietnam War and that fact was rarely talked about before he had lost his memory, so the prospect of 'welcoming' him fell away." Tatum grew up in Sonoma and attended Sonoma Valley High.
Ryan Sayler and Griffin Tatum share the role of Hugo. Sayler said, "Department Chair Leslie McCauley literally Jedi mind-tricked me into auditioning. I'm not kidding." Tatum grew up in Sonoma and attended Sonoma Valley High.
Lighting Designer Vincent Mothersbaugh is a disabled veteran. Georgia Ortiz is the show's Stage Manager. She attended Santa Rosa High's ArtQuest program and she hopes to become an Equity stage manager.
The show runs March 9, 10, 14, 15, 16, 17, at 8:00 p.m. and March 10, 11, 17, 18 at 2:00 p.m. It is recommended for ages 14 and above. Panel discussions will follow selected performances (dates and panelists will be added to the website soon).
More details on show times, tickets, and other SRJC shows this season are available at https://theatrearts.sant
arosa.edu/. Tickets may also be purchased by calling the box office at (707) 527-4307.  Tickets cost from $12.00 to $18.00 and parking is available for $4.00.
Photos by Tom Chown
Jenna Rechsteiner as Jenny Sutter
Dylan Kupper as Donald
Maureen O'Neill as Lou