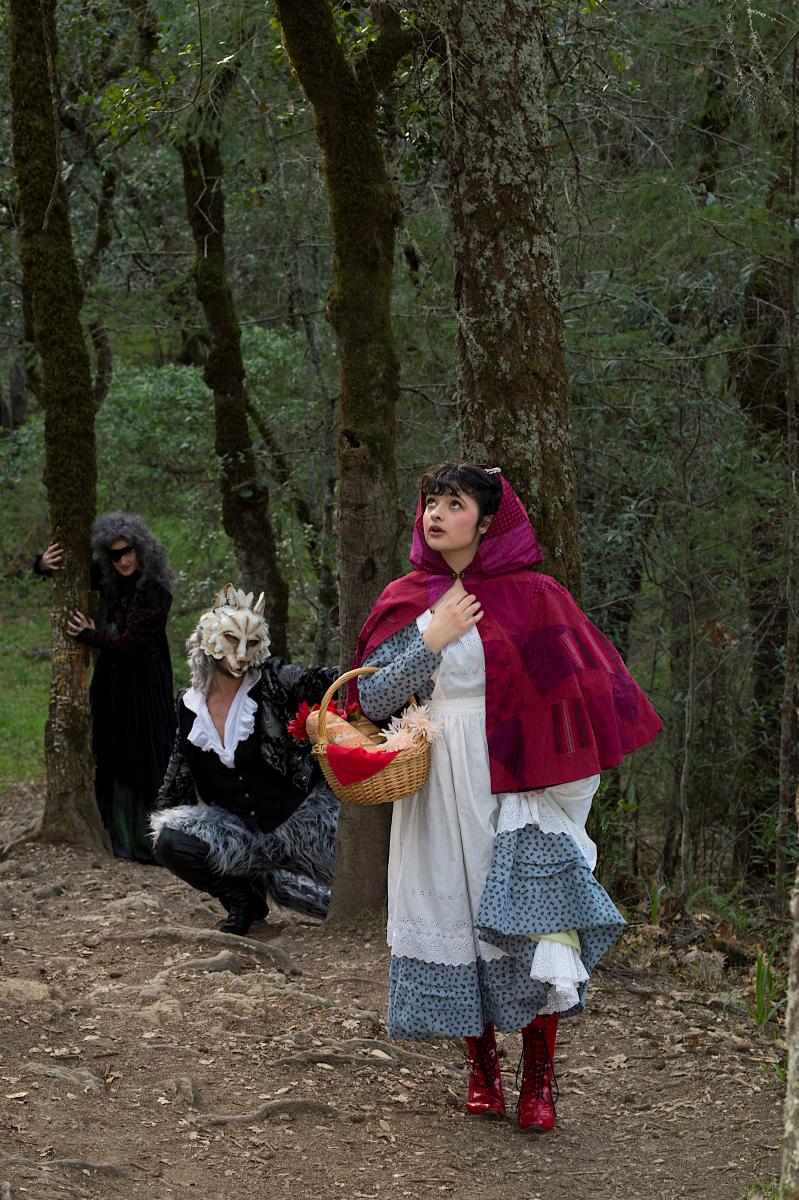 March 26, 2018 – The Santa Rosa Junior College (SRJC) Theatre Arts Department presents Into the Woods, running April 20 through May 6. In this production, American musical theatre genius Stephen Sondheim weaves a basketful of beloved fairytales into a theatrical adventure that is both hilarious and heartbreaking. Told in two enchanting acts, this enlightening fable (perfect for grown-up children and grownups who are young at heart) goes past the point of answered wishes and "happily ever after" to find out what really happens next when the stories end. Audiences wander the woods, accompanied by a dazzling score with unforgettable songs such as "Giants in the Sky," "Agony," and "Children Will Listen."
Siobhan O'Reilly, of Sonoma, is playing the cow, Milky White, and is finishing up her Theatre Arts transfer major. She said of the show, "I have always loved fairytales and deconstructions of fairytale tropes. I think it's fascinating how they reflect and inform our culture and our unconscious."
Shawna Jackson is a graduate of Casa Grande High School in Petaluma. She is finishing up her Theatre Arts transfer major and said that she was "inspired to audition because the stories are classic but do not end with a Disney twist."
Lana Spring, a member of the ensemble, grew up in Petaluma and attended Petaluma High. She said, "I've grown up with the tales of Cinderella, Jack and the Beanstalk, and Rapunzel…so it's like my childhood memories come to life!"
Serena Poggi is playing Little Red Riding Hood. The Novato native said, "I've loved this show for so long and musical theatre is my true passion!" She hopes to come of out of the process a brighter and more confident performer.
Roberto Pérez Kempton is an international student who grew up in Spain. He is completing his Theatre Arts degree for transfer. He said, "I enjoyed being in last fall's The Little Mermaid a lot and wanted to continue expanding my knowledge in musical theatre."
Victor Santoyo Cruz from Sonoma is pursuing his Acting Certificate and is a member of the ensemble. He hopes to expand his acting abilities. He stated, "Being a part of a musical has always been a goal of mine."
Kira Catanzaro, of Sonoma, is playing the Stepmother. She said, "I've missed 'treading the boards.' I've never played a character with a black heart. I have two teenage sons, so I thought I'd try daughters! I am struggling with motherhood, particularly around issues of guilt—not being good enough or present enough and letting go of my sons who want more space and freedom. So here I am!"
Danny Banales, Theatre Arts major with an emphasis in playwriting, attended Sonoma Valley High. He will be playing Cinderella's father.
Miranda Jane Williams is a graduate of Santa Rosa High School's ArtQuest program. She said, "I love the idea of the woods and how chaotic they are. It's very relevant to where I am in my life and the things that are happening in our world. Plus, my favorite person in the world (Laura Downing-Lee) is directing it!"
Christine Vondralee, a graduate of Analy High in Sebastopol, is one of the two assistant stage managers. Christine is ambitiously completing all five Theatre Arts career certificates, the Theatre Arts transfer major and an AA in humanities.
Brett Mollard, a graduate of Montgomery High in Santa Rosa, will be playing the Baker. He said, "My whole life I've always been a very 'black and white' person, which has caused me all sorts of trouble throughout life. As I've gotten older, I've realized that life is a series of complex truths, a journey. I feel the Baker experiences a similar revelation in the show."
Alex Sterling, another Montgomery High graduate, plays Jack. He said, "Sondheim is my favorite composer/lyricist. When I was in New York, one of my mentors was a student of Sondheim and he taught me so many things about Sondheim and his work. I'm a huge supporter of the lessons and intelligence shown through Sondheim's shows."
Maria Carrillo High School Theatre, 6975 Montecito Boulevard, Santa Rosa 95409
April 20, 21, 26, 27, 28, May 3, 4, 5 at 7:30 PM
April 22, 28, 29, May 5, 6 at 1:30 PM
Ticket Cost: $12-$22
Free parking
Book by James Lapine
Music and Lyrics by Stephen Sondheim
Directed by Laura Downing-Lee
Choreography by Tamara Grose
Music Direction Justin Pyne
Vocal Direction Jody Benecke
Into the Woods is presented through special arrangement with Musical Theatre International (MTI). All authorized performance materials are also supplied by MTI.
Further details on show times can be found online at https://theatrearts.santarosa.edu/current-season.
Tickets can be purchased online at https://theatrearts.santarosa.edu/buy-tickets-online or by calling SRJC's Theatre Box Office at (707) 527-4307. 
Recommended for ages 12 and above.