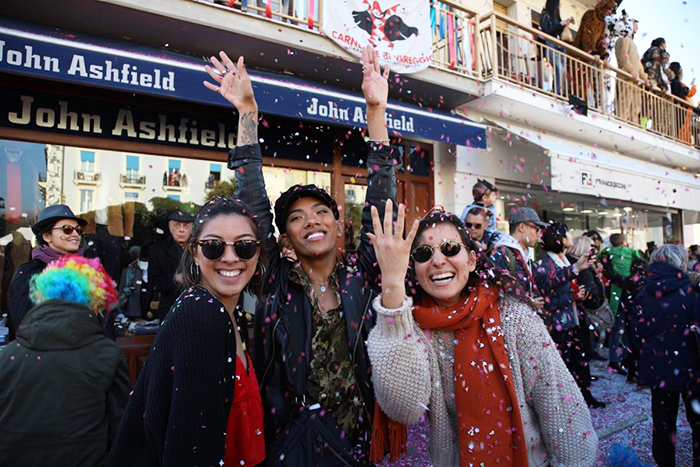 October 28, 2021, Santa Rosa, CA — Santa Rosa Junior College (SRJC) was recognized on Wednesday, Oct. 27 by the U.S. Department of State's Bureau of Educational and Cultural Affairs for having produced some of the most Gilman scholarship recipients over the past twenty years.

"We are so proud to have a robust Study Abroad program, which we hope will continue to grow as we move beyond the pandemic," said SRJC President Dr. Frank Chong. "Study Abroad gives our students valuable life skills as they learn from diverse international cultures, experiences, and people. These scholarships make opportunities available to all students- not just those who can afford it."
 
The Department of State's Gilman program makes studying abroad more accessible to American students by providing scholarships for outstanding undergraduate students who, due to financial constraints, might not otherwise participate. Since the program's inception in 2021, more than 34,000 Gilman Scholars from all U.S. states, Puerto Rico, and other U.S. territories have studied or interned in more than 155 countries around the globe.  
Today at the Diversity Abroad Conference, Deputy Assistant Secretary of State Ethan Rosenzweig virtually announced SRJC as one of the U.S. colleges and universities that have sent the most Gilman Scholars abroad over the past two decades. SRJC was recognized for its support of equity, diversity, and accessibility in study abroad for American students through the Gilman Program.  
 
"This recognition is a testament to the great essays that were written by our students over the past 20 years. I'm especially grateful to our study abroad assistant, Patty Warne, who has successfully coached these students on their journey to explore the world while earning transfer credits," said Dean of Arts and Humanities, Kerry Loewen, who oversees the program. "Study Abroad is life-changing and the Gilman Scholarship and our other SRJC Foundation scholarships help make the program equitable."
 
SRJC is currently enrolling students for a summer program in Ireland and semester-length programs in Florence and London. For more information on the SRJC Study Abroad program, please visit https://study-abroad.santarosa.edu/
 
To learn more about the Gilman and Gilman-McCain Scholarships and how their diverse alumni are pursuing impactful careers in the government, non-profit, and private sectors, contact eca-press@state.gov and visit www.gilmanscholarship.org.