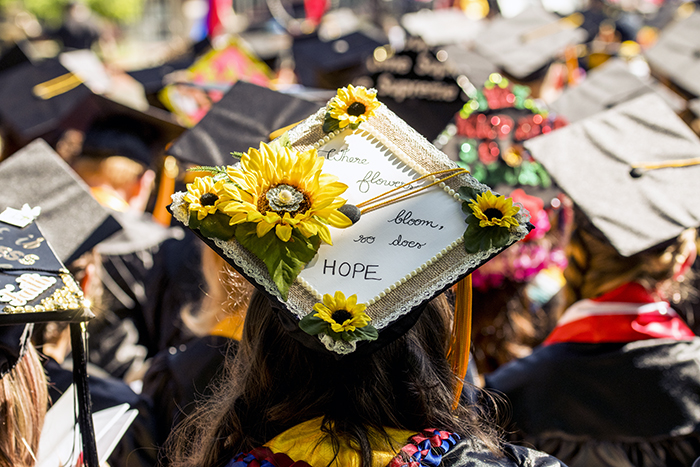 May 26, 2021, Santa Rosa, CA –On Friday, May 28, 5:00 p.m. Santa Rosa Junior College (SRJC) will livestream a virtual "Celebrate CE" video to celebrate the students who have attained their Career Education certificates. On Saturday, May 29, 9:00 a.m. the college will livestream a virtual graduation video, recognizing graduates who have completed one or more associate degrees.
Following the virtual graduation ceremony, graduates are also invited to participate in a drive-through diploma pick-up event on Saturday, May 29, 1:00-4:00 p.m. SRJC President Dr. Frank Chong, the college vice presidents, and a number of faculty will be on-site to applaud the students' success. The event will take place in the Emeritus parking lot on the Santa Rosa campus.
Both events will be available at live.santarosa.edu. After the premieres, both videos will continue to be available on-demand at that link.
In 2020-21, more than 1,700 students earned Career Education certificates in 100 programs, and over 1,700 graduates are being awarded nearly 2,300 degrees.
SRJC President Dr. Frank Chong applauded the faculty and staff who worked tirelessly to continue instruction and services throughout this difficult year. He said that it is more important than ever to celebrate the accomplishments of these dedicated students.
"They should be incredibly proud of what they've achieved in the face of so many challenges," he said. "These students have shown that they are determined, resilient individuals and I have no doubt they will go on to do great things. I'm so glad SRJC could be a part of that."
The community is welcome to join the ceremonies to celebrate the graduates and certificate completers.
For more information on the virtual Celebrate CE event, please visit events.santarosa.edu/celebrate-ce-2021.
For more information on the virtual graduation, please visit events.santarosa.edu/graduation-2021.