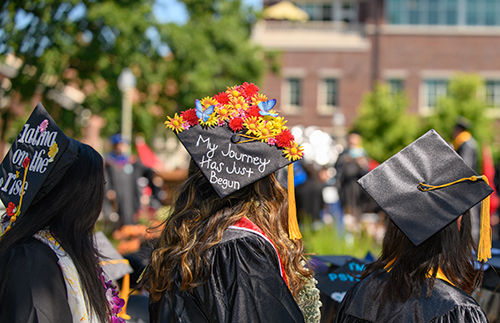 May 12, 2020, Santa Rosa, CA – As a result of the order to "shelter in place" due to the coronavirus crisis in our local community, Santa Rosa Junior College (SRJC) will hold virtual celebration and graduation ceremonies on May 22 and May 23. 
On Friday, May 22, 5:00 p.m., SRJC will livestream a virtual "Celebrate CE" video, recognizing students who completed certificate programs. On Saturday, May 23, 9:00 a.m., SRJC will live stream a virtual graduation video, recognizing graduates who have completed one or more associate degrees. Both of these will be available at live.santarosa.edu.
Because SRJC knows that a virtual ceremony cannot take the place of a live event, the college will also invite all 2020 graduates to participate in Commencement 2021, as long as SRJC has reopened for large events by that time.
SRJC President Dr. Frank Chong said that it is more important than ever to celebrate the accomplishments of the dedicated students who have worked hard to graduate in the face of unprecedented challenges, as well as the faculty and staff who helped them achieve their goals.
"These students have shown incredible determination and resilience by continuing their studies while our community faced wildfires, smoke closures, power outages and now the coronavirus," he said. "They are graduating having proven their resilience and ability to persevere. I'm proud that SRJC could be a part of that."
The community is welcome to join these ceremonies to celebrate graduates and certificate completers.
More information on these events can be found below.
Celebrate CE: https://events.santarosa.edu/celebrate-ce-2020
Virtual graduation celebration: https://events.santarosa.edu/graduation-2020