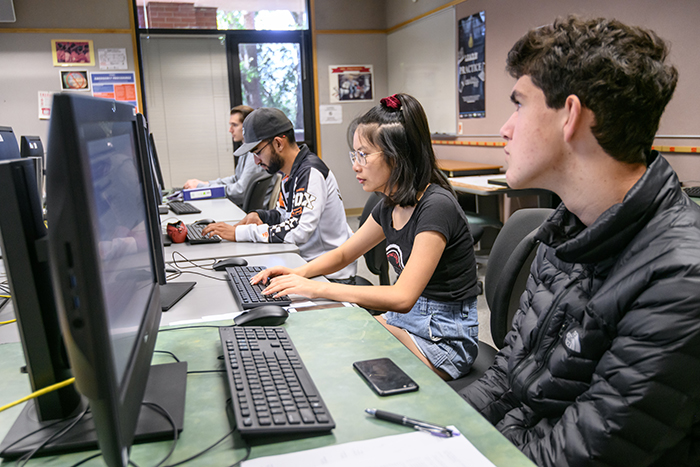 April 6, 2021, Santa Rosa, CA — The Computer Studies Department at Santa Rosa Junior College (SRJC) is offering an online Web Development Boot Camp. This is an accelerated version of the Web Fundamentals certificate, which will allow students to become proficient in front-end mobile and web development in just twenty-six weeks. The first boot camp class will be held during the summer 2021 semester. The two other classes required for the skills certificate will be taught during the fall semester.
 
Web development continues to be a fast-growing career track, and SRJCs Web Development Boot Camp will teach the specialized skills one needs to gain entry to the tech industry. It is a program for people who are ready to work hard on a challenging, immersive curriculum. Through a virtual classroom environment and collaborations with classmates, students will get hands-on experience in front-end development, and be able to put new skills into practice on complex projects right away.
 
"Prior programming experience isn't required, but students will need lots of tenacity and a passion for building cool stuff," said Instructor Ethan Wilde, the program coordinator.
 
This boot camp format reduces the time it takes to earn a certificate and be ready to begin or advance a career. Because it is part-time, the program is compatible with work schedules. Additionally, SRJC students benefit from a wide set of career services including resume support, technical interview preparation, portfolio reviews, soft skills training, coaching, job matching, and more to help launch or advance careers.
 
During the summer 2021 semester, students learn the foundational skills needed to begin a career as a client-side web developer. They are trained in the modern languages and tools used to create responsive and dynamically-generated web and mobile sites through hands-on projects.

"Employment of web developers and digital designers is projected to grow eight percent from 2019 to 2029, much faster than the average for all occupations," according to the Bureau of Labor Statistics (BLS).  "Demand will be driven by the continued popularity of mobile devices and ecommerce."
 
May 2019 BLM statistics say that web developers' and dgital interface designers' mean annual wage is $82,370 per year. California is the state with the highest employment level in this occupation.

The curriculum covers:
HTML5
CSS3
JavaScript
jQuery
Bootstrap
Vue.js
React.js
Progressive Web Apps
Node.js
Agile Methodology
 
For more information, please visit https://cs.santarosa.edu/bootcamp.