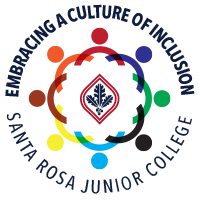 April 3, 2018 - SRJC's "Embracing a Culture of Inclusion" program is the recipient of the Outstanding Program award by The California Community College Council for Staff and Organizational Development organization (4CSD). The Outstanding Program Award recognizes and rewards excellence and innovation at the institutional level in staff, program and organizational development programs in the California Community Colleges.
Embracing a Culture of Inclusion was developed as a coordinated professional development approach by a cohort of faculty, classified professionals and management over two years ago. The original cohort included Genevieve Bertone, Galen George, Karen Furukawa, Sarah Hopkins, Nick Lawrence, Mary Sandberg, Angelica Tercero, Cathy Prince and Hilleary Zarate. The District has since hired a Manager/Employment Equity, Sussanah Sydney, and she has taken the lead on the development of this program.
ECI is a key component to facilitating the vision of the college which is to be an inclusive, diverse and sustainable learning community that engages the whole person. This program offers support and training to promote inclusion and a culture shift for the SRJC College Community. Participants interact with their colleagues to understand their role in supporting an inclusive workplace. The training promotes awareness and understanding of what inclusion means and increase our ability to work more effectively to embrace a culture of inclusion at SRJC. We use a train-the-trainer approach with new participants joining the planning group for this program continuously.